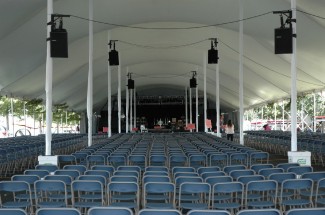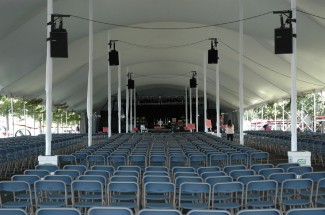 Perennial challenges for any system designer include dealing with low ceilings, long/narrow rooms, reverberant spaces, limited rigging capacity, high-profile events, and a mixture of spoken word and loud musical program material.
Occasionally all these challenges—plus wind and weather—come together into one important job.
TC Furlong was asked by professional audio manufacturer Shure Inc. to design and operate a complete sound system in the music tent at Shure's Family Day event at their world headquarters in Niles.  The sound system needed to deliver uniform coverage over the entire 60′ wide x 220′ long audience seating area and generate both the intelligibility necessary for speech as well as ample power for classic hard-rockers Cheap Trick in a concert setting.  Additionally, we provided an announcement system for the adjacent 60'x260′ food tent.
A typical approach to a long throw space is to put a long array (many line array elements) up high.  In this case, we were limited by several factors: no rigging capability from the tent structure, 10′ high tent sidewalls, and 10′ open width on each side of the stage (40′ wide stage in a 60′ wide tent) leaving a 14′ maximum elevation on each side.
Better Audio by Design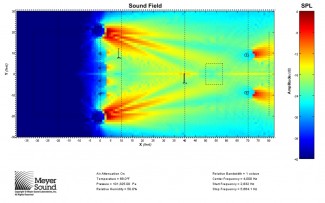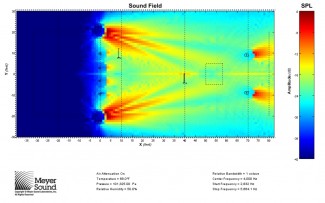 We brought together a design team consisting of TC Furlong project manager, Chris Wintz, TC Furlong himself, and Bob McCarthy to look at all the limitations, challenges and options.  Using Meyer Sound's proprietary MAPP (Multiple Acoustical Prediction Program) as a system performance prediction tool, we came up with a system design that delivered outstanding results.
The main system consisted of a variety of Meyer Sound point source cabinets (see equipment list and photos) on elevated sound wings combined with 3 delay lines with loudspeakers flown from custom tent pole brackets.  All elements were managed by a Meyer Sound Galileo 616 and compass software controlled wirelessly.  Scott Helmke was the System and FOH technician who oversaw the installation and alignment of the 25 cabinet system.
The event was a complete success on every level.
The sound systems delivered the power, articulation, and even coverage that the design team predicted, and Cheap Trick's crew and leadership from Shure were thrilled by the result.
Gear Highlights
TC Furlong's Live Events Division is a full-service "one-stop production shop" serving event planners and producers that need more than just high-quality audio equipment.  Every day we are called upon to coordinate details such as backline, lighting, video, rigging, staging, power distribution, tenting, decor, artist ground transportation, remote recording/production trucks, satellite up-link, webcasting, or just about anything required to produce an important event.
For more information about our Live Events Division, please contact Jeff Cech at 847.367.9588 or jc@tcfurlong.com.