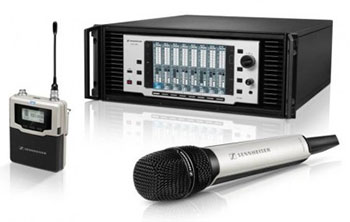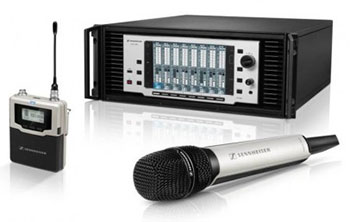 Sennheiser recently announced the new Digital 9000 wireless microphone system.
We were fortunate to get an advance look this past August, and the feature set looks fantastic.
The result of more than a decade of research and development, this premium system is designed for professional users in broadcast studios, theatres, and live performances who are unwilling to compromise on sound.  Its unique uncompressed digital audio transmission offers artifact-free sound with great dynamics.
The Digital 9000 system features:
Totally uncompressed 24-bit, 96k digital audio—sounds like a wired microphone
Low latency—3ms total system delay
Twice as many available channels in a given bandwidth as compared to Sennheiser's top-of-the-line analog system
12 capsule choices, including new Neumann capsules
EM9046 receiver covers the entire available UHF spectrum—470-698 MHz
Multiple analog and digital audio output options
Encrypted transmission
New remote control antennas with selectable RF filters and automatic gain calibration
Lithium ion rechargeable batteries
See and hear the Digital 9000 system in person!  Stay tuned for Chicago-area launch events hosted by TC Furlong in early November.
If you have any questions about Sennheiser Digital 9000, please contact our Sales Team at 847.367.9588 or sales@tcfurlong.com.