Upcoming Events
RF Seminar and Expo
Moody Church, Chicago, IL – March 10 – 9AM-7PM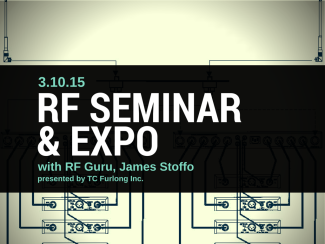 Join us for a seminar on the latest best practices for production wireless with RF Guru, James Stoffo.
Click here to register.
With the constant change in the RF landscape, not to mention the ever-shrinking spectrum available for wireless microphone, IEM, IFB, and intercom operation, knowledge of fundamental RF theory, strategy, and operation is crucial.
James Stoffo has a long history of navigating extreme RF environments, with credits as the RF Tech/Coordinator at events including multiple Super Bowls, All-Star Games, World Cups, and Awards Shows.  When the RF Environment is tough, producers call James Stoffo
James has worked for RF manufacturers, founded Professional Wireless Systems, is in constant demand as a consultant and presenter, and is now Chief Technology Officer for Radio Active Designs.
This day-long event will cover:
System Design
Coordination Exercises
Best practices for successful operation of systems of all sizes
RF transmission theory
Wargames: How to combat challenging RF situations
Current and upcoming regulatory issues
In addition to the seminar, the major manufacturers of production wireless equipment will be on-hand with their newest RF gear in a tradeshow-style expo.  Spend some hands-on time with the gear and get all your questions answered by manufacturer reps.
Manufacturer participants include: AKG, Audio-Technica, Clearcom, HME, Radio Active Designs, RF Venue, Sennheiser, and Shure.  More manufacturers will be added to this list as they confirm.
Registration for this event includes a full day of instruction, continental breakfast, catered hot lunch, coffee breaks, after-show snacks, and, of course, swag and networking opportunities.
We hope to see you on March 10!
Space is limited—click here to register.
---
Don't miss any of our events, workshops, or webinars.
Sign up for notifications of upcoming events in the box to the right.