Upcoming Events
Yamaha TF Series Open House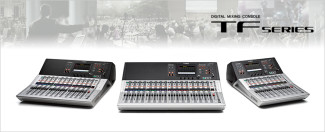 Check out the latest digital consoles from Yamaha at our Open House Event on Friday, April 24, from Noon-5PM.
Yamaha Regional Sales Manager, Mike Eiseman, will be at our Lake Forest office with all three consoles for walkthroughs and hands-on time.
The new TF Series combines Yamaha know-how with new input from the field and the latest touch-screen technology to deliver a console experience that focuses on efficient, intuitive operation at an entry-level price.
Features include:
Multi-touch operation with a Touch and Turn Knob for precision control
1-Knob COMP and 1-Knob EQ
Auto GainFinder for fast setup
QuickPro channel presets from partners including Audio-Technica, Sennheiser, and Shure
TF StageMix app for wireless mixing
MonitorMix app allowing up to 10 iOS devices to be assigned to specific aux buses for personal mix adjustments
Channel scribble strips/colors
and more!
This event is free, but space is limited. Click here to reserve your spot today!
We hope to see you this Friday, April 24!
Don't miss any of our events, workshops, or webinars.
Sign up for notifications of upcoming events in the box to the right.