Upcoming Events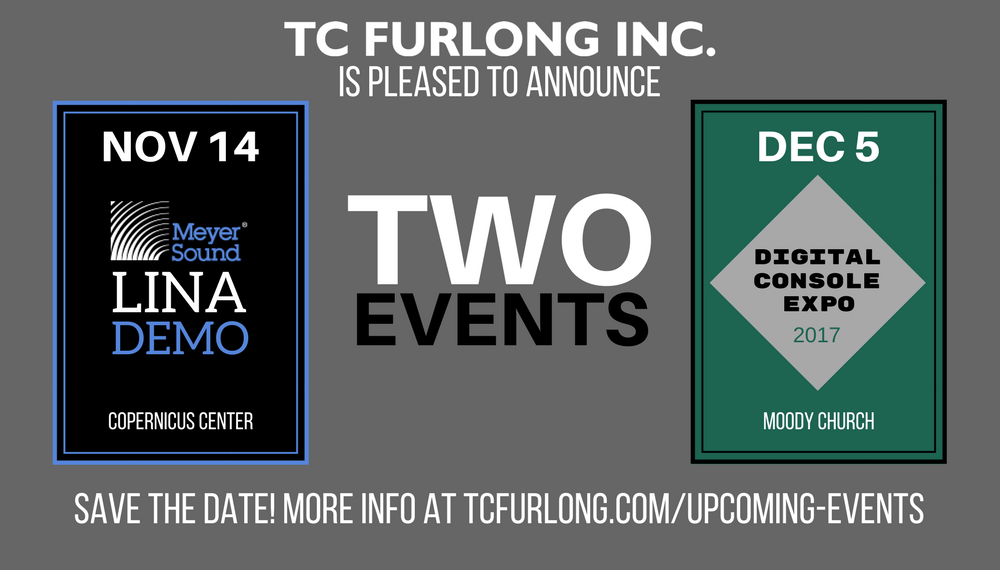 Meyer Sound LINA Demo Chicago – November 14, 2017
Join us for a demonstration of Meyer Sound's newest addition to the LEO Family: The LINA very compact linear line array loudspeaker system and 750 LFC.
Hosted in Chicago at the Copernacus Center, we will have two opportunities for guests to come and experience the LINA system. The demonstrations will be held at 11 a.m. and 3 p.m. on Tuesday, November 14th 2017. Lunch will be provided at 12:30 for all attendees.
Click here to register for the LINA Demo Event!
If you have any questions about the event or about registration, please call 847-367-9588 or email sales@tcfurlong.com.
---
Digital Console Expo 2017 – December 5, 2017
Get some hands-on time with the latest in digital console technology at TC Furlong's annual Digital Console Expo! 3:00pm to 8:30pm Tuesday December 5 at Moody Church.
More details to come soon.
---
To get regular updates on this and other events, sign up for our newsletter in the box to the right.
Check back on this page often for more information about our upcoming events.