Shure Axient Wireless Management Network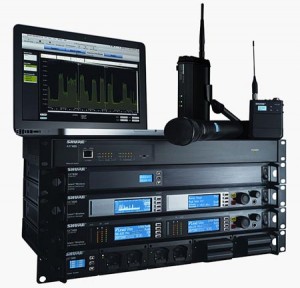 With the Axient Wireless Management Network, Shure introduces a dramatic new threshold of control and confidence in RF applications with zero tolerance for failure.
Axient comprises of six core technologies:
Spectrum management – with precision wideband scanning; on-board frequency calculation; and backup frequency monitoring, ranking, and deployment.
Interference detection and avoidance – automatic or manual movement to known clean frequencies in the event that the RF signal degrades.
Frequency diversity – seamless, uninterrupted audio in the face of direct interference, by simultaneously transmitting on two separate frequencies.
Transmitter remote control – real-time remote control of all transmitter parameters, from gain adjustment to frequency changes.
Advanced power management – smart, high-performance batteries and chargers, with detailed visibility of critical battery parameters. Up to 10 hours of runtime.
Wireless Workbench 6 Software – comprehensive wireless system control, from pre-show planning to live performance monitoring.
We recently held a webinar with Gino Sigismondi, Shure's Manager of Technical Training, where he gave a detailed runthrough of the Axient system.
**The recording may take up to 30 seconds to buffer depending on your internet connection**
Please note – the live event that is referenced in the webinar has already taken place.  If you would like a private demo and walkthrough of the Axient system, call us anytime at 847.367.9588.