Careers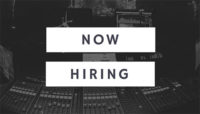 TC Furlong is expanding and has immediate openings for hard-working, dependable employees interested in live sound and developing their skills at a high level.
AUDIO SHOP TECHNICIAN
Serve as a member of our busy operations team: prep and return rental equipment orders; drive company vehicles on local / regional deliveries; load/unload trucks; test and maintain equipment; shipping / receiving and general warehousing; provide excellent service to our clients; system set-up and other live-event crew calls; other related duties as required.
PROJECT MANAGER
Serve as a member of our busy rental team with extensive high-level client interaction and communications; work closely with clients on design solutions (including complex loudspeaker systems, RF systems, digital audio networking, etc.), rider fulfillment, logistics planning, price negotiations, contracting, site surveys, insurance matters, and other customer support functions; train clients in use of equipment; assist with business development activities. Also serve as a member of our staff engineer team assisting with occasional onsite mixing, engineering, production management, load-in/outs, etc.
These are full-time, year-round positions at our office located in the northern suburbs of Chicago (Libertyville/Vernon Hills, IL area). TC Furlong offers employee benefits including paid time off, contributions to 401K, profit sharing, group health/life/dental/vision insurance plans and support for professional development opportunities. Compensation is competitive and commensurate with experience.
The ideal candidate for these positions will have: experience with and significant interest in live sound reinforcement equipment; clean driving record and ability to get a Class C (non-CDL) Illinois Driver's License; strength, agility, and stamina to work with heavy equipment; extremely high level of attention to detail and strong communications skills; excellent work record demonstrating stability, flexibility, and customer service; ability to work variable hours (including occasional evenings, early mornings, weekends, and holidays); be a non-smoker.
TC Furlong Inc. is a well-established live sound company with an excellent reputation for quality, ethics, and service. We specialize in sound reinforcement equipment sales, gear rentals, live events, technical labor, and professional services (design, alignment, repairs, training). You would be part of a small team that values quality, service, learning, and flexibility–where your input and opinions matter.
Send PDF of cover letter, resume, and recent compensation history to jobs@tcfurlong.com (please no calls). Indicate which position you are applying for. Apply today — deadline is Monday, February 27, 2017.
NOTE: TC Furlong is also looking to grow our freelance roster including A1, A2, system tech, utility/stage hands, drivers and AV / video technicians. Send resume and rates today to jobs@tcfurlong.com