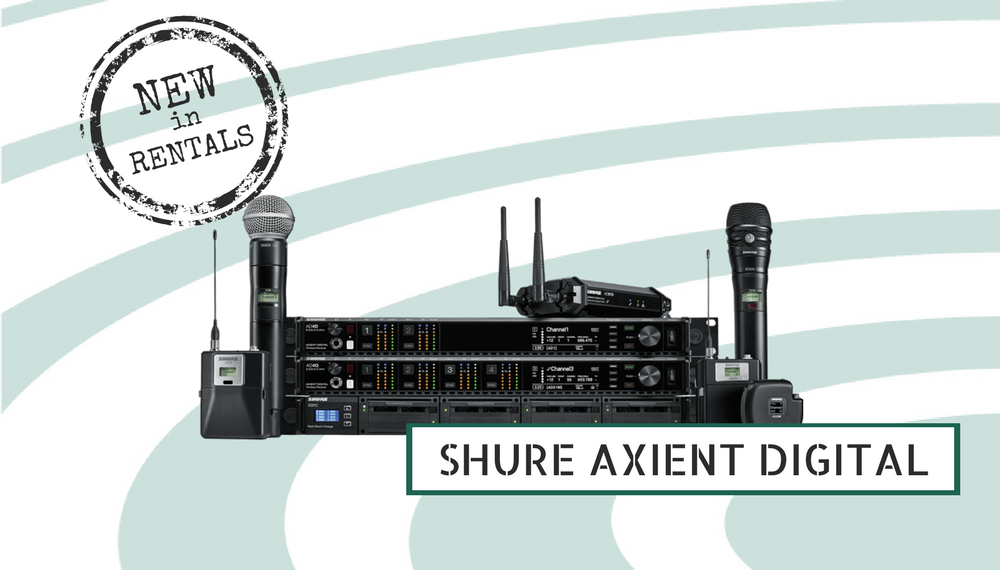 by Brian Grahn, Sales/Marketing
TC Furlong Inc. has recently made a significant investment to add Shure's Axient Digital AD series wireless systems into rental stock. The newest product in Shure's extensive wireless systems catalog, the Axient Digital series builds on the digital audio transmission found in the ULX-D series, while also incorporating many of the advanced features from the UHF-R and Axient lines.
The Axient Digital series includes one receiver platform and two styles of transmitters: the AD, which shares much of the ULXD feature set, and the ADX, which are more closely related to the capabilities of Axient analog. One of the main innovations of the Axient Digital series is that all components (transmitters and receivers) operate in a single frequency band that encompasses the entire usable UHF range from 470 to 616 MHz. From a rental standpoint, this means that every Axient Digital component can be adapted to any location and is easily scalable to any application.
Axient Digital receivers come in dual and quad configurations, and feature true digital diversity per channel, networked control capabilities, and antenna pass through. Each channel features analog XLR and TRS outputs as well as AES and Dante digital output options. Network jacks are configurable to work as a network switch or for redundant Dante outputs. The AD4Q quad receiver also features a Quadversity option where four antennas can be assigned to a single channel for greater coverage and signal quality.
AD transmitters can operate in standard and high-density mode, in which up to 47 channels can fit in a single 6 MHz TV band. The AD2 handhelds are compatible with all Shure wireless microphone capsules and AD1 bodypacks come with either TA4F or LEMO3 connections. The form- factor of the AD transmitter series is similar to the ULXD/QLXD series, and all are compatible to work with standard AA batteries or Shure's rechargeable SB900A solution.
Set to be released in early 2018, the ADX transmitters will feature interference protection, advanced rechargeability and ShowLink remote control for real-time parameter adjustments. The ADX lineup will also feature a micro-bodypack transmitter and a frequency-diversity handheld that transmits RF signal on two discrete carriers. Thanks to the designed scalability of the Axient Digital series, all of these transmitters can be integrated directly with the AD4 receivers and can be combined seamlessly into larger systems along with AD series transmitters.
Axient Digital's wide tuning range and spectrally efficient digital transmission make the series a flexible and easy-to-use tool that is highly capable of handling the ever-changing RF environment. Wireless system rentals from TC Furlong, including Shure's Axient Digital, comes with our Wireless Advantage: every rental is custom configured, tested as a full system, and provided with a frequency coordination specific to your location and equipment. For more information about adding Shure's Axient Digital wireless system to your next rental, please contact our rental team at 847-367-9588 or rentals@tcfurlong.com.
TC Furlong is also a longstanding authorized dealer for all Shure products, as well as other major audio brands. For questions about purchasing an Axient Digital system , including information about system design and the 600 MHz rebates, contact our sales team at 847-367-9588 or sales@tcfurlong.com .