Waves eMotion LV1-64 Digital Mixing Console Rental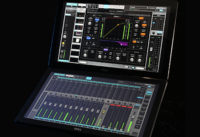 We offer Waves eMotion LV1-64 Digital Mixing Console rentals in Chicago, the Chicago suburbs, and nationwide.
If you have any questions about a Waves eMotion LV1-64 Digital Mixing Console rental in Chicago, suburban Chicago, or nationwide, or to reserve your rental, contact our Rental Team at 847.367.9588 or rentals@tcfurlong.com.
The Waves eMotion LV1-64 Digital Mixing Console is just one of many digital mixing consoles in our rental inventory.
Waves eMotion LV1 is a software mixer that provides real-time audio mixing and processing for front-of-house, monitor, broadcast, and recording studio applications.  A mixer system consists of the eMotion LV1 application, a SoundGrid server, and one or more SoundGrid I/Os.  There are three mixer configurations – 64, 32, or 16 channels – with up to 8 stereo groups, 16 stereo auxes, L/R/C/M Main busses, and an 8 stereo channel matrix.  The mixer is very scalable and it provides a complete solution for live mixing, from the smallest gig to the largest production.
The mixer is compatible with Windows and Mac operating systems.  It supports industry-standard control surfaces and multi-touch devices, and can run on multiple screens in both wired and wireless networks.  This allows you to design your work environment however you want.  Whether you're using a single laptop with a mouse or multiple touchscreens and control surfaces, the eMotion LV1 user interface will feel familiar and intuitive.
Powered by low-latency Intel-based Waves SoundGrid DSP servers, eMotion LV1 utilizes the SoundGrid network for connecting multiple mixers, stage boxes, I/O interfaces, playback/recording hosts, and all other SoundGrid-compatible devices.  This provides for flexible configurations with standard network components.
eMotion LV1 is a one-stop shop for all your live mixing needs.  With eight inserts on each channel for SoundGrid-compatible Waves and third-party plugins, eMotion LV1 saves you the need to use outboard gear for top-tier processors.  eMotion LV1 also lets you share plugin presets and rack processing chains between your studio and other platforms or consoles that run MultiRack.
TC Furlong offers Waves eMotion LV1-64 Digital Mixing Console rentals alongside many other digital mixing consoles and an extensive rental inventory of professional audio equipment.
Contact the TC Furlong Rental Team today to rent the Waves eMotion LV1-64 Digital Mixing Console in Chicago, Suburban Chicago, or nationwide.
Waves eMotion LV1-64 Digital Mixing Console Rental Documentation:
Waves eMotion LV1-64 Rental Quick Start Guide (PDF)