Yamaha TF1 16 Channel Digital Mixing Console Rental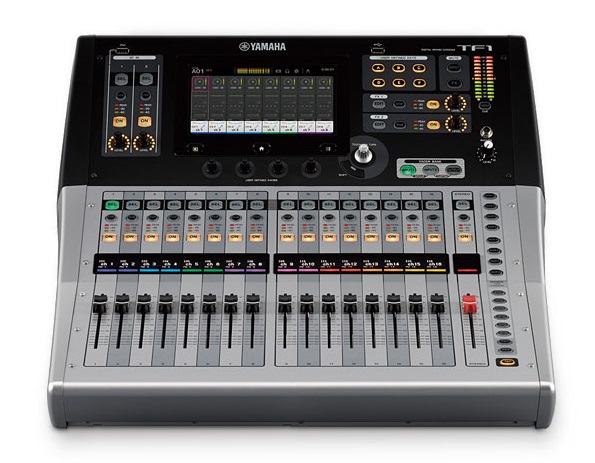 We offer Yamaha TF1 16 Channel Digital Mixing Console rentals in Chicago, the Chicago suburbs, and nationwide.
If you have any questions about a Yamaha TF1 16 Channel Digital Mixing Console rental in Chicago, suburban Chicago, or nationwide, or to reserve your rental, contact our Rental Team at 847.367.9588 or rentals@tcfurlong.com.
The Yamaha TF1 16 Channel Digital Mixing Console is just one of many digital mixing consoles in our rental inventory.
Compact, portable, and even rack mountable, the TF1 offers impressive capability and versatility for smaller systems.
TouchFlow Operation™ introduced in the TF series consoles allows the user to respond to the music and artists on stage with unprecedented speed and freedom, taking live sound reinforcement to a new level of refinement. With the TouchFlow Operation interface optimized for touch panel control, experienced engineers as well as newcomers to the field will find it easier than ever to achieve the ideal mix. Recallable D-PRE™ preamplifiers support sound quality that will satisfy the most discerning professional ears, while advanced live recording features and seamless operation with high-performance I/O racks give these compact digital mixers capabilities that make them outstanding choices for a wide range of applications. Experience the intuitive control and creative freedom that a truly evolved digital console can provide.
The Yamaha TF series Digital mixing consoles represent years of continuous development. Yamaha is among the world's most experienced designers of digital consoles, but for the TF project, engineers started from scratch, rethinking the way people approach mixing sound, and careful not to get caught up in any conventions or presupposed best practices without a thorough reexamination. The team that created this console have more than 70 years of aggregated experience mixing shows of all genres, so they have firsthand experience with the chief concerns musicians have with regard to mixing. The Yamaha TF1 has the lightest input section of the three available versions of the TF mixer series, ideal for most common recording and touring scenarios. It may be the perfect thing for your stage or studio. Based around an intuitive multi-touch screen and a simple touch and turn knob getting around and making adjustments is simple and fast. Simple swipe, pinch and pull gestures and double touches invite the user to make adjustments, and the always available Touch and Turn control makes precise adjustments a breeze.
FEATURES
17 motor faders (16 channels + 1 master)
40 input mixing channels (32 mono + 2 stereo + 2 return)
20 Aux buses (8 mono + 6 stereo) + Stereo + Sub
8 DCA groups with Roll-out
16 analog XLR/TRS combo mic/line inputs + 2 analog RCA pin stereo line inputs
16 analog XLR outputs
34 x 34 digital record/playback channels via USB 2.0 + 2 x 2 via a USB storage device
1 expansion slot for NY64-D audio interface card
TC Furlong offers Yamaha TF1 16 Channel Digital Mixing Console rentals alongside many other digital mixing consoles and an extensive rental inventory of professional audio equipment.
Contact the TC Furlong Rental Team today to rent the Yamaha TF1 16 Channel Digital Mixing Console in Chicago, Suburban Chicago, or nationwide.
Yamaha TF1 16 Channel Digital Mixing Console Rental Documentation:
Yamaha TF1 16 Channel Digital Mixing Console Brochure (PDF)