Radial DI Rentals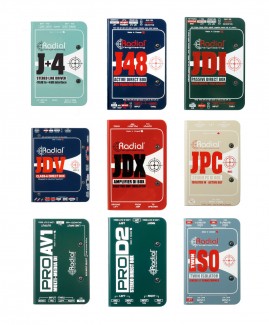 We offer Radial DI rentals in Chicago, the Chicago suburbs, and nationwide.
If you have any questions about a Radial DI rental in Chicago, suburban Chicago, or nationwide, or to reserve your rental, contact our Rental Team at 847.367.9588 or rentals@tcfurlong.com.
Radial is one of several brands of DIs in our rental inventory.
Radial is the market leader in direct box and Reamp technology and is quickly gaining as the go-to manufacturer for mic splitters, audio signal switchers and more recently, as a force in the exciting new world of 500 series racks and modules. Sound quality, comprehensive features and exceptional durability are the cornerstones that have made Radial popular with the most demanding artists around the globe.
Radial is the world's leader in passive DI box technology with lower noise, less distortion and greater signal handling. These are available in various configurations with choice of custom wound Radial transformers or the world's finest Jensen audio transformers. All Radial DI boxes are made to handle the most abusive touring environment and are optimized for low noise using RF filters, full ground plane PCB layouts, and internal mu-metal shielding. Radial the world's finest passive direct box!
Radial active direct boxes are legendary in their ability to handle more signal level with less distortion and quietly transfer the sound of the instrument to the audio system without artifact. A wide range of active DI boxes are offered to address needs such as acoustic guitar, bass, computers and even turntables!
We have the following Radial DIs in our rental inventory:
TC Furlong offers Radial DI rentals alongside several other brands of DIs and an extensive rental inventory of professional audio equipment.
Contact the TC Furlong Rental Team today to rent a Radial DI in Chicago, Suburban Chicago, or nationwide, at 847.367.9588 or rentals@tcfurlong.com.