Sennheiser ew 300 G3 Wireless In-Ear Monitor Rentals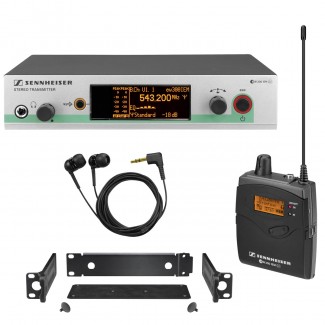 We offer Sennheiser ew 300 G3 rentals in Chicago, the Chicago suburbs, and nationwide.
If you have any questions about a Sennheiser ew 300 G3 rental in Chicago, suburban Chicago, or nationwide, or to reserve your rental, contact our Rental Team at 847.367.9588 or rentals@tcfurlong.com.
Sennheiser ew 300 G3 is one of several wireless in-ear monitor systems in our rental inventory.
Sennheiser ew 300 G3 rentals come with the TC Furlong Wireless Advantage.
All Sennheiser ew 300 G3 rentals include transmitters, receivers, and cables.
We offer Sennheiser ew 300 G3 rentals in the following frequency bands:
A-Band – 518.000-550.000MHz – TV Channels 22-27
B-Band – 626.000-662.000MHz – TV Channels 40-45
Hear better, perform better. The Sennheiser ew 300 G3 in-ear monitoring system is trusted by professionals worldwide and is now better than ever. Featuring an adaptive-diversity receiver, the receiver pack uses the headphone cable as a secondary antenna for flawless reception. Ear-canal phones, with various ear-fitting pads for an individual fit, reproduce the signal from the adaptive diversity receiver precisely and faithfully. Pass-through outputs allow easy splitting of the input signal to travel to other devices. The 5 band equalizer integrated in the transmitter also allows you to personalize the sound even further. Lastly, the entire set can be monitored and remotely controlled with Sennheiser's "Wireless Systems Manager" software due to the built-in Ethernet port on the stereo transmitter.
Sturdy metal housing (transmitter and receiver)
42 MHz bandwidth: 1680 tunable UHF frequencies for interference-free reception
Enhanced frequency bank system with up to 16 compatible frequencies
Ethernet port for connecting to the Wireless Systems Manager (WSM) software for control via computer – this delivers a good overview of monitoring and professional data management for multi-channel systems
Adaptive diversity for high reception quality
Pilot tone squelch for eliminating RF interference when transmitter is turned off
Automatic frequency scan feature searches for available frequencies
Enhanced AF frequency range
Increased range for audio sensitivity
Wireless synchronization of receiver parameter from transmitter
User-friendly menu operation with more control options
Illuminated graphic display
Auto-Lock function avoids accidental changing of settings
HDX compander for crystal-clear sound
Receiver feature battery indicatation in 4 steps
Mute function for transmitter
Integrated 5-band graphic Equalizer in transmitter
HiBoost, adjustable limiter, stereo/focus mode, balance in receiver
Contacts for recharging BA 2015 accupack directly in the receiver
Wide range of accessories adapts the system to any requirement
Why rent Sennheiser ew 300 G3 wireless in-ear monitor systems from TC Furlong Inc.?
The TC Furlong Wireless Advantage.
When renting a Sennheiser ew 300 G3 wireless in-ear monitor system, we provide more than just transmitters and receivers.  Each system is designed specifically for your rental, and benefits from our decades of expertise in wireless design and operation.
Frequency coordination for your performance location for all Sennheiser ew 300 G3 rentals.  We have the knowledge and specialized tools to accurately coordinate your wireless microphone rental with other wireless and avoid local broadcasters.
Custom configurations.  Every Sennheiser ew 300 G3 rental we send out is designed specifically for that job.  We don't pre-configure any wireless before we know exactly what you need.
Every Sennheiser ew 300 G3 rental is loaded with fresh batteries, then tested as a system before it leaves our shop to guarantee performance at your show site.
The correct antenna for the job.  We deploy a wide range of antennas for many different applications.  From log-periodic and omni antennas to helically- and circularly-polarized antennas, we have the correct antenna for your job.
Extras including RF scanners, antenna distribution, high- and low-pass filters, and low-loss cable to help improve signal strength.
Auxiliary gear to interface our wireless with your system.
TC Furlong offers Sennheiser ew 300 G3 rentals alongside other wireless in-ear monitor rentals and an extensive rental inventory of professional audio equipment.
Contact the TC Furlong Rental Team today to rent Sennheiser ew 300 G3 wireless in-ear monitor systems in Chicago, Suburban Chicago, or nationwide.
Sennheiser ew 300 G3 Rental Documentation:
Sennheiser ew 300 G3 Rental Manual (PDF)