Shure P9HW Wired In-Ear Monitor Rentals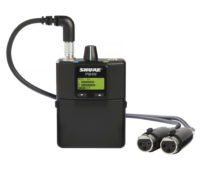 We offer Shure P9HW rentals in Chicago, the Chicago suburbs, and nationwide.
If you have any questions about a Shure P9HW rental in Chicago, suburban Chicago, or nationwide, or to reserve your rental, contact our Rental Team at 847.367.9588 or rentals@tcfurlong.com.
Shure P9HW is a part of the Shure PSM900 series and one of many in-ear monitor systems in our rental inventory.
All Shure P9HW rentals include cables and single-driver earbuds.
The Shure P9HW Wired In-Ear Monitor System is ideal for drummers and keyboard players who want the audio clarity and reduced feedback of in-ear monitors but don't need wireless mobility.  The system provides up to 9 continuous hours of runtime with 2 AA batteries or offers extended runtime with the Shure SB900 lithium-ion battery, which can charge in the bodypack.
Other features include:
Rugged, all-metal construction
LCD screen with menu-based navigation
Easy to adjust volume knob and mix control
4-Band parametric EQ
Switchable line (+4 dBu) and aux (-10 dBV) input level
Power and battery status LED
5-Segment battery life meter
Power-save mode and automatic power-off preserves battery life
TC Furlong also offers the wireless Shure PSM900 alongside other in-ear monitor rentals and an extensive rental inventory of professional audio equipment.
Contact the TC Furlong Rental Team today to rent Shure P9HW wired in-ear monitor systems in Chicago, Suburban Chicago, or nationwide.
Shure P9HW Rental Documentation: