Shure PSM900 Wireless In-Ear Monitor Rentals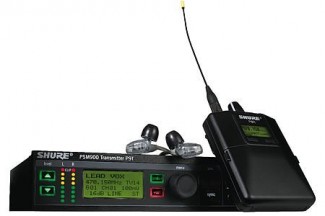 We offer Shure PSM900 rentals in Chicago, the Chicago suburbs, and nationwide.
If you have any questions about a Shure PSM900 rental in Chicago, suburban Chicago, or nationwide, or to reserve your rental, contact our Rental Team at 847.367.9588 or rentals@tcfurlong.com.
Shure PSM900 is one of several wireless in-ear monitor systems in our rental inventory.
Shure PSM900 rentals come with the TC Furlong Wireless Advantage.
All Shure PSM900 rentals include transmitters, receivers, and cables.
We offer Shure PSM900 rentals in the following frequency bands:
G6 Block – 470.000-506.000 – TV Channels 14-19
G7 Block – 506.000-542.000 – TV Channels 20-25
K1 Block – 596.000-632.000 – TV Channels 35-40
We also offer the Shure P9HW, which is a wired version of the PSM900 series.
The Shure PSM 900 Wireless Personal Monitor System from Shure offers an unprecedented combination of superb audio quality, robust RF performance, and category-leading setup features for the most demanding professional applications. All new, patent-pending CueMode allows the sound engineer to monitor different stage mixes with the touch of a button. Precision front-end RF filtering significantly reduces dropouts from RF interference, and the enhanced digital stereo encoder provides excellent stereo separation and audio clarity.
Digital stereo encoder provides a wider stereo field

with exceptional separation, enhancing audio detail

and clarity

Patented Audio Reference Companding sounds more

like wired

Available with Shure SE425 Sound Isolating Earphones featuring dual high-definition MicroDrivers for accurate and balanced audio response

Precision front-end RF filtering for a cleaner, stronger

RF signal and fewer dropouts and audible artifacts.

Exceptional transmitter linearity vastly reduces frequency intermodulation, allowing more channels

per frequency band.

Automatic RF gain control prevents signal distortion due to RF overload.

Patent-pending CueMode allows monitoring of the

stage mixes of up to 20 separate transmitters from one bodypack.

Front panel RF mute switch for disabling RF transmission during setup

Scan and Sync setup identifies the best group and channel for your system and assigns it over a wireless IR link

MixMode Technology allows the bodypack user to adjust their own onstage monitor mix

High-frequency EQ boost on bodypack
Why rent Shure PSM900 wireless in-ear monitor systems from TC Furlong Inc.?
The TC Furlong Wireless Advantage.
When renting a Shure PSM900 wireless in-ear monitor system, we provide more than just transmitters and receivers.  Each system is designed specifically for your rental, and benefits from our decades of expertise in wireless design and operation.
Frequency coordination for your performance location for all Shure PSM900 rentals.  We have the knowledge and specialized tools to accurately coordinate your wireless microphone rental with other wireless and avoid local broadcasters.
Custom configurations.  Every Shure PSM900 rental we send out is designed specifically for that job.  We don't pre-configure any wireless before we know exactly what you need.
Every Shure PSM900 rental is loaded with fresh batteries, then tested as a system before it leaves our shop to guarantee performance at your show site.
The correct antenna for the job.  We deploy a wide range of antennas for many different applications.  From log-periodic and omni antennas to helically- and circularly-polarized antennas, we have the correct antenna for your job.
Extras including RF scanners, antenna distribution, high- and low-pass filters, and low-loss cable to help improve signal strength.
Auxiliary gear to interface our wireless with your system.
TC Furlong offers Shure PSM900 rentals alongside other wireless in-ear monitor rentals and an extensive rental inventory of professional audio equipment.
Contact the TC Furlong Rental Team today to rent Shure PSM900 wireless in-ear monitor systems in Chicago, Suburban Chicago, or nationwide.
Shure PSM900 Rental Documentation: