Anchor AN1000X Personal Monitor Loudspeaker Rental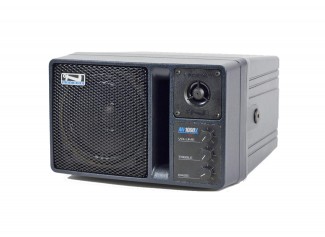 We offer Anchor AN1000X rentals in Chicago, the Chicago suburbs, and nationwide.
If you have any questions about a Anchor AN1000X loudspeaker rental in Chicago, suburban Chicago, or nationwide, or to reserve your rental, contact our Rental Team at 847.367.9588 or rentals@tcfurlong.com.
The Anchor AN1000X is just one of many loudspeakers in our rental inventory.
The AN-1000X+ is the most versatile powered monitor on the market. You can add it to an A/V rack setup, use it as a studio monitor, install it in a trade show booth, or place it in the Captain's quarters on a US Navy warship to monitor activities in the intelligence room.
Reach Crowds of 400+
Bass & Treble Controls
RCA & 1/4" Line Inputs
MIC/LINE Configurable XLR Input
Magnetically Shielded
220 Volt CE-Compliant Model
Durable ABS Case – Black or White
Speaker Output Drives Companion Speaker
Rated Power Output- 50 watts continuous @ 4 Ω
Max SPL @ Rated Power- 103 dB @ 1 meter
Frequency Response- 65 Hz – 20 kHz ± 3 dB
Speaker Type- 4.5" woofer, 10 mm dome tweeter
AC Power Reqs.- 110 – 125Vac, 50/60 Hz, 90W Max
Dimensions (HWD)- 5.8" x 8.63" x 8.3" (14 x 22 x 21 cm)
Weight- 9.5 lbs / 4.3 Kg
Enclosure Material- ABS
TC Furlong offers Anchor AN1000X loudspeaker rentals alongside many other loudspeakers and an extensive rental inventory of professional audio equipment.
Contact the TC Furlong Rental Team today to rent the Anchor AN1000X loudspeaker in Chicago, Suburban Chicago, or nationwide, at 847.367.9588 or rentals@tcfurlong.com.
Anchor AN1000X Rental Documentation: