Danley JH 90 Jericho Loudspeaker Rental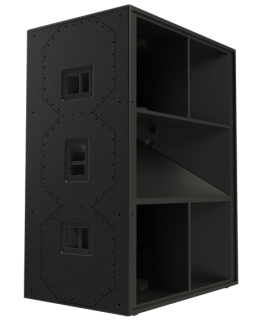 We offer Danley JH 90 Jericho rentals in Chicago, the Chicago suburbs, and nationwide.
If you have any questions about a Danley JH 90 Jericho loudspeaker rental in Chicago, suburban Chicago, or nationwide, or to reserve your rental, contact our Rental Team at 847.367.9588 or rentals@tcfurlong.com.
The Danley JH 90 Jericho is just one of many loudspeakers in our rental inventory.
All JH 90 rentals include cases/bags and power cables.
The Danley JH 90, or Jericho Horn, is simply the most accurate high-power loudspeaker ever created. A single cabinet produces quality audio well beyond 1000 feet from a true full range point source. The JH-90 houses six 18 inch drivers, six 6 inch mid-range drivers and three 1.4 inch coaxial high frequency drivers. That's 15 drivers seamlessly combining together to provide more than 145 dB SPL.
Input power- 12000 W total
Coverage pattern- 90 degree Horizontal, 40 degree vertical
Continuous ouput- 148 db
Maximum (peak) output- 151 db
720 lbs.
TC Furlong offers Danley JH 90 Jericho loudspeaker rentals alongside many other loudspeakers and an extensive rental inventory of professional audio equipment.
Contact the TC Furlong Rental Team today to rent the Danley JH 90 Jericho loudspeaker in Chicago, Suburban Chicago, or nationwide.
Danley JH 90 Jericho Rental Documentation: