Genelec 8030 Studio Monitor Loudspeaker Rental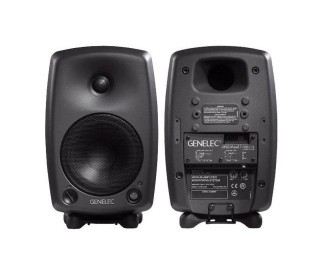 We offer Genelec 8030 rentals in Chicago, the Chicago suburbs, and nationwide.
If you have any questions about a Genelec 8030 loudspeaker rental in Chicago, suburban Chicago, or nationwide, or to reserve your rental, contact our Rental Team at 847.367.9588 or rentals@tcfurlong.com.
The Genelec 8030 is just one of many loudspeakers in our rental inventory.
The compact 8030A is a powerful bi-amplified nearfield 2-way monitor system ideal for project and home studios, workstations, installations, and surround sound monitoring.
The MDE (Minimum Diffraction Enclosure) enclosure has rounded edges and a gently curved front and sides to achieve a very smooth frequency response and superb imaging qualities with minimized cabinet edge diffraction.
Like all Genelec 8000 Series monitors, the 8030A also features the advanced Genelec Directivity Control Waveguide (DCW), a revolutionary flow-optimized reflex port design, optimized die-cast aluminium structure with extremely durable semi-matt finish and acoustically optimized metal grilles.
TC Furlong offers Genelec 8030 loudspeaker rentals alongside many other loudspeakers and an extensive rental inventory of professional audio equipment.
Contact the TC Furlong Rental Team today to rent the Genelec 8030 loudspeaker in Chicago, Suburban Chicago, or nationwide, at 847.367.9588 or rentals@tcfurlong.com.
Genelec 8030 Rental Documentation: