MacPherson M12BP Loudspeaker Rental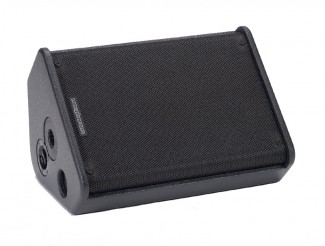 We offer MacPherson M12BP rentals in Chicago, the Chicago suburbs, and nationwide.
If you have any questions about a MacPherson M12BP loudspeaker rental in Chicago, suburban Chicago, or nationwide, or to reserve your rental, contact our Rental Team at 847.367.9588 or rentals@tcfurlong.com.
The MacPherson M12BP is just one of many loudspeakers in our rental inventory.
The MacPherson M12B Series offers an excellent combination of performance and flexibility in a compact, two-way design. Utilizing an asymmetrical cabinet design, the loudspeakers are equally applicable to being used as a floor monitor or a main system. The M12 Series use a 1-inch compression driver for smooth, natural, high-frequency response and a high-power 12-inch driver for tight, low-frequency performance.
The M12 Series is available in two versions. The M12B is configured for bi-amplified operation, allowing the greatest control over the sonic performance. Internal filters on the HF section minimize the need for external processing. The M12BP incorporates an internal crossover to provide full-range operation using a single amplifier channel. The carefully designed crossover offers excellent clarity in the all-important voice range. In addition, the minimalist-design-approach circuitry allows increased SPL output with the same applied amplifier power. Whether sitting on a stage, stand-mounted, or flown in an array, both versions provide highly musical, high-SPL reproduction.
The compact, lightweight enclosure offers excellent ease-of-use for numerous applications. An integrated D-ring/stud fitting is provided for overhead-suspension applications. A cast-aluminum pole cup allows rapid stand mounting. Dual NL4 connectors, one on each side of the cabinet, provide connection flexibility. All cabinet and hardware finishes were carefully selected to minimize interruption of audience sight lines. For long life, the cabinet is constructed using hardwood plywood and finished with a rugged epoxy coating. The sleek, rounded-edge grill is powder-coated for resistance to physical and environmental abuse.
Recommended amplifier power- LF- 400 to 600 W, HF- 100 to 200 W
Coverage pattern- 85 degrees horizontal, 55 degrees vertical
Frequency response- 90 Hz to 14 kHz (+/- 3 dB)
Asymmetrical design works as floor monitor or main system
No processor required
Requires little (if any) equalization
Extremely high SPL capability
Excellent power handling
Small and lightweight for easy transport
Built-in flypoint and pole cup
Smooth vocal range, tight, low-frequency performance
14″ X 21″ X 15″
46.5 lbs.
TC Furlong offers MacPherson M12BP loudspeaker rentals alongside many other loudspeakers and an extensive rental inventory of professional audio equipment.
Contact the TC Furlong Rental Team today to rent the MacPherson M12BP loudspeaker in Chicago, Suburban Chicago, or nationwide.
If you have any questions about a MacPherson M12BP loudspeaker rental, contact our Rental Team at 847.367.9588 or rentals@tcfurlong.com.
MacPherson M12BP Rental Documentation: