MacPherson M12X-Mirror Loudspeaker Rental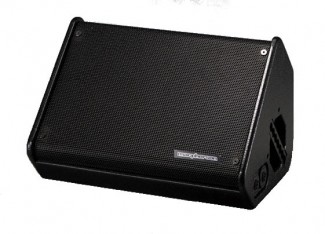 We offer MacPherson M12X-Mirror rentals in Chicago, the Chicago suburbs, and nationwide.
If you have any questions about a MacPherson M12X-Mirror loudspeaker rental in Chicago, suburban Chicago, or nationwide, or to reserve your rental, contact our Rental Team at 847.367.9588 or rentals@tcfurlong.com.
The MacPherson M12X-Mirror is just one of many loudspeakers in our rental inventory.
The MacPherson M12X Series is designed to be the industry's premier compact trapezoid loudspeaker. Compact and versatile, the M12X Series is a truly unique loudspeaker system with a variety of uses. The shape of the loudspeaker allows it to be used as a flown or stand-mounted system and as a floor monitor with correct pattern control and appearance in all applications. The M12X-Mirror Series' internal components have been selected with only one criteria: world class performance. A 2-inch compression driver, coupled to a rotatable slot-CD horn, produces smooth high-frequency performance. A 12-inch woofer handles 400-watts RMS continuous program, providing solid high-SPL bass response.
Separate M12X versions are available to support bi-amplified or full-range operation. There is not a more versatile nor better sounding 12-inch 2-way system available at any price. The M12X Series features extremely high power-handling capability, high SPL capability, and impressive low-frequency performance in a compact design.
Recommended amplifier power- LF- 400 to 600 W, HF- 100 to 200 W
Coverage pattern- 90 degrees horizontal, 55 degrees vertical
Frequency response- 90 Hz to 14 kHz (+/- 3 dB)
Compact size
Integral fly track system (top and bottom)
High gain-before-feedback
Rotatable slot-CD horn for smooth, wide, high-frequency dispersion
Four NL4 connectors—two on each end of cabinet
Four M12X-Mirrors fit in a single 30H x 30W x 30D road case
15″ X 21″ X 15″
54.5 lbs.
TC Furlong offers MacPherson M12X-Mirror loudspeaker rentals alongside many other loudspeakers and an extensive rental inventory of professional audio equipment.
Contact the TC Furlong Rental Team today to rent the MacPherson M12X-Mirror loudspeaker in Chicago, Suburban Chicago, or nationwide, at 847.367.9588 or rentals@tcfurlong.com.
MacPherson M12X-Mirror Rental Documentation: