Meyer Sound M'elodie Loudspeaker Rental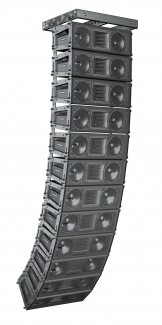 We offer Meyer Sound M'elodie rentals in Chicago, the Chicago suburbs, and nationwide.
If you have any questions about a Meyer Sound M'elodie loudspeaker rental in Chicago, suburban Chicago, or nationwide, or to reserve your rental, contact our Rental Team at 847.367.9588 or rentals@tcfurlong.com.
The Meyer Sound M'elodie is just one of many loudspeakers in our rental inventory.
Sometimes, big things come in small packages. The Meyer Sound M'elodie ultracompact high-power curvilinear array loudspeaker is a good example. M'elodie is Meyer Sound's newest generation of a strong family line: the celebrated M Series. M'elodie brings the sonic signature and easy to use rigging of the MILO family of loudspeakers, along with an extraordinary power-to-size ratio to a package smaller than the company's MICA compact high-power curvilinear array loudspeaker. As a result, M'elodie is compact enough for small theatres, ballrooms and clubs, as well as being an outstanding performer in theatrical productions and corporate AV applications.
M'elodie can be used as a main system in small venues in combination with 500-HP subwoofers which enhance the low-frequency response and increase the overall acoustic power of the system in the lowest frequencies. In addition the 500-HP can be used to create cardiod arrays. M'elodie versatility does not stop there, its broad 100-degree horizontal coverage makes it ideal for use in larger venues, too, as it is designed to integrate seamlessly with MICA. M'elodie's QuickFly rigging, which features captive GuideALinks for the maximum in flexibility and safety, make it easy to add as downfill to a MICA array, but individual M'elodie cabinets also work exceptionally well for frontfill or under-balcony coverage. Best of all, M'elodie's small footprint takes up little truck space.
M'elodie is the latest self-powered loudspeaker from Meyer Sound, the company that introduced controller-assisted loudspeakers more than 30 years ago and self-powered sound reinforcement systems over 11 years ago. With an all-new low-frequency driver and amplifier, plus Meyer Sound's famous complex crossover, driver protection, and frequency and phase correction circuitry, M'elodie provides a reliable, low-distortion solution for a key segment of the sound reinforcement market.
Output power- 600 W (900 W peak)
Coverage pattern- 100 degree horizontal, vertical varies depending on array length and configuration
Exceptional power-to-size ratio
Wide and even horizontal coverage pattern
Very small footprint keeps a low profile appearance
Seamless integration with MICA
QuickFly rigging with captive GuideALinks simplifies use in flown or groundstacked arrays, alone or with 500-HP, 600-HP subwoofers
Cardiod arrays when used in combination with 500-HP subwoofers
TC Furlong offers Meyer Sound M'elodie loudspeaker rentals alongside many other loudspeakers and an extensive rental inventory of professional audio equipment.
Contact the TC Furlong Rental Team today to rent the Meyer Sound M'elodie loudspeaker in Chicago, Suburban Chicago, or nationwide.
Meyer Sound M'elodie Rental Documentation:
Meyer Sound M'elodie Rental Manual (PDF)