Meyer Sound MICA Loudspeaker Rental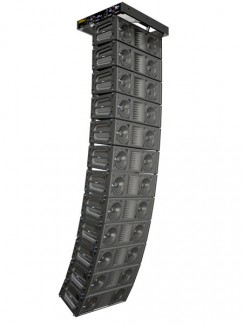 We offer Meyer Sound MICA rentals in Chicago, the Chicago suburbs, and nationwide.
If you have any questions about a Meyer Sound MICA loudspeaker rental in Chicago, suburban Chicago, or nationwide, or to reserve your rental, contact our Rental Team at 847.367.9588 or rentals@tcfurlong.com.
The Meyer Sound MICA is just one of many loudspeakers in our rental inventory.
The Meyer Sound MICA compact high-powered curvilinear array loudspeaker is the mid-sized member of the acclaimed MILO family of loudspeakers. MICA brings the very high output and smooth, extended high-frequency response that is the MILO family's sonic signature to a smaller package with broad 100-degree horizontal coverage. This makes MICA ideal for applications that do not require quite as much power and throw distance as MILO or where weight and size are a concern. MICA is suited to a wide variety of applications such as touring, rental, and fixed installation, and its sonic compatibility with MILO makes it an excellent component in a MILO family system.
MICA offers all of the benefits of Meyer Sound's nearly three decades of manufacturing controller-assisted loudspeakers and 12 years making self-powered systems, including carrying integral amplification, complex crossover, driver protection and frequency and phase correction circuitry onboard. MICA's components were all newly designed specifically for it and manufactured at Meyer Sound's Berkeley factory to meet stringent performance specifications and rigorous quality controls. As with all Meyer Sound systems, MICA exhibits flat frequency and phase response across its wide operating range of 60 Hz to 18 kHz.
MICA is built for touring, with QuickFly rigging that features captive GuideALinks and a built-in front link vertical extension capability, as well as dimensions that provide an efficient truck pack.
With a peak output of 138 dB SPL, MICA sets a new standard for power-to-size ratio and raises the bar for performance in a compact curvilinear array system, whether it is on the road or fixed in one place.
Output power- 600 W (900 W peak)
Coverage pattern- 100 degree horizontal, vertical varies depending on array length and configuration
Very high power-to-size ratio
Exceptional fidelity and transient response for intelligibility and high-impact
Seamless integration with MILO or M'elodie
Wide and even horizontal coverage pattern
QuickFly rigging system with captive GuideALinks simplifies use in flown or groundstacked arrays
TC Furlong offers Meyer Sound MICA loudspeaker rentals alongside many other loudspeakers and an extensive rental inventory of professional audio equipment.
Contact the TC Furlong Rental Team today to rent the Meyer Sound MICA loudspeaker in Chicago, Suburban Chicago, or nationwide.
Meyer Sound MICA Rental Documentation:
Meyer Sound MICA Rental Manual (PDF)