Meyer Sound MM-4 Loudspeaker Rental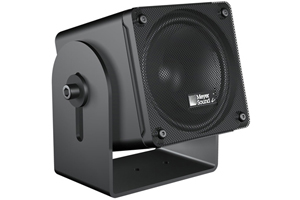 We offer Meyer Sound MM-4 rentals in Chicago, the Chicago suburbs, and nationwide.
If you have any questions about a Meyer Sound MM-4 loudspeaker rental in Chicago, suburban Chicago, or nationwide, or to reserve your rental, contact our Rental Team at 847.367.9588 or rentals@tcfurlong.com.
The Meyer Sound MM-4 is just one of many loudspeakers in our rental inventory.
The Meyer Sound MM-4 loudspeaker is a very compact, wide-range loudspeaker for high quality distributed system applications. In contrast to conventional low power 70-volt transformer based systems, the MM-4 connects directly to the amplifier and is capable of producing high sound pressure levels while dramatically reducing distortion and easing installation requirements.
The MM-4 comprises a single 4-inch cone driver with a 16-ohm voice coil mounted in a sealed enclosure. The MM-4 draws 150 watts peak from the line, and produces 112.5 dB peak SPL. Typically, with four MM-4s connected in parallel on the line, the system requires a direct drive power amplifier capable of 600 watts continuous output (49 volts rms) into 4 ohms.
The MM-4CEU is a two-channel, single rack space unit providing frequency and phase response correction circuitry tailored to the MM-4 loudspeaker. Through a SpeakerSense connection to the power amplifier output, the MM-4CEU continuously monitors the power applied to the drivers, activating integral peak and RMS limiters to protect against over-excursion and overheating, respectively.
The MM-4CEU incorporates Meyer Sound's MultiSense circuit to drive several amplifiers, monitor two amplifier channels and activate its protection circuits based on the system branch with the highest signal level. MultiSense allows the levels of individual zones to be adjusted using the power amplifier's attenuators. Typically, each channel of the MM-4CEU can drive 12 or more amplifier channels depending on the input impedance of the amplifier.
The MM-4 enclosure's black anodized extruded aluminum acts as a sink to dissipate heat from the driver voice coil. It can be ordered custom-painted to match décor, and is fitted with a perforated steel grille.
Two connector versions are available: the sealed EN3 connector for outdoor installations, and a Phoenix-style keyed connector for use indoors. A companion MUB-MM4 U-bracket is available for mounting that affixes to the cabinet with two 3/8″-16 screws and is drilled to fit an OmniMount bracket. An optional MMFA-MM4 flush mount assembly is available for ceiling or wall mount applications.
Power-handling capability- 100 W
Operating frequency range- 120 Hz – 18 kHz
Coverage pattern- 80 degrees symmetrical
Extremely compact enclosure
Wide-range frequency response
Ultra-low distortion
Transformerless, wide-bandwidth signal distribution
Amazing SPL/size ratio
Low distortion maximizes intelligibility
Effortlessly reproduces music as well as speech
Flexible mounting options ease installation
Weather-resistant version available for outdoor installations
TC Furlong offers Meyer Sound MM-4 loudspeaker rentals alongside many other loudspeakers and an extensive rental inventory of professional audio equipment.
Contact the TC Furlong Rental Team today to rent the Meyer Sound MM-4 loudspeaker in Chicago, Suburban Chicago, or nationwide.
Meyer Sound MM-4 Rental Documentation:
Meyer Sound MM-4 Rental Manual (PDF)