Meyer Sound USW-1P Loudspeaker Rental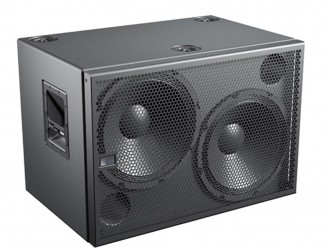 We offer Meyer Sound USW-1P rentals in Chicago, the Chicago suburbs, and nationwide.
If you have any questions about a Meyer Sound USW-1P loudspeaker rental in Chicago, suburban Chicago, or nationwide, or to reserve your rental, contact our Rental Team at 847.367.9588 or rentals@tcfurlong.com.
The Meyer Sound USW-1P is just one of many loudspeakers in our rental inventory.
The Meyer Sound USW-1P is a self-powered subwoofer loudspeaker that provides flat response in the 32 – 180 Hz range. The USW-1P performs well with UPA-P Series self-powered loudspeakers to form full-range reproduction systems, and is also compatible with other Meyer Sound self-powered mid-high loudspeakers.
The USW-1P cabinet houses two 15-inch drivers, each powered by a dedicated channel of the proprietary built-in class AB/bridged amplifier (350 watts per channel) with complementary power MOSFET output stages. Each channel features a protection limiter that prevents driver over-excursion and regulates voice coil temperature, allowing high output levels across the drivers' entire frequency range.
The USW-1P input incorporates a built-in crossover and accepts a full-range signal, allowing for simple daisy-chain signal distribution and eliminating the need for external crossovers. The USW-1P also incorporates an Intelligent AC power supply, which auto-selects the correct operating voltage for international use, suppresses voltage transients, and provides soft-start power-up.
The USW-1P is compatible with Meyer Sound's RMS remote monitoring system. RMS displays signal and power levels, limiter activity and amplifier temperature for all loudspeakers in the network on a Windows-based PC.
Output- 550 W
Coverage pattern- 360 degrees
Classic design configuration with proven heritage
High peak power capability for excellent transient reproduction
Compact cabinet satisfies a broad range of installation requirements
Flat phase response for optimal crossover to mid/high systems
TC Furlong offers Meyer Sound USW-1P loudspeaker rentals alongside many other loudspeakers and an extensive rental inventory of professional audio equipment.
Contact the TC Furlong Rental Team today to rent the Meyer Sound USW-1P loudspeaker in Chicago, Suburban Chicago, or nationwide.
Meyer Sound USW-1P Rental Documentation:
Meyer Sound USW-1P Rental Manual (PDF)