Yamaha MS202 Personal Monitor Loudspeaker Rental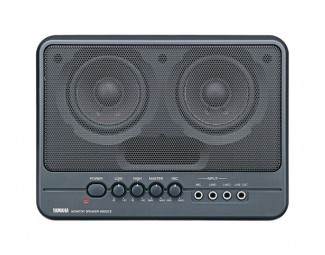 We offer Yamaha MS202 rentals in Chicago, the Chicago suburbs, and nationwide.
If you have any questions about a Yamaha MS202 loudspeaker rental in Chicago, suburban Chicago, or nationwide, or to reserve your rental, contact our Rental Team at 847.367.9588 or rentals@tcfurlong.com.
The Yamaha MS202 is just one of many loudspeakers in our rental inventory.
Outstanding response and power
20 watts- with dual 10 centimeter full range drivers. Frequency response covers a wide 70 Hz to 18,000 Hz range.
Internally Equalized for Solid Bass
The frequency range is enhanced by a special internal equalizer circuit.
Low and High EQ Controls
It features independent Low and High EQ controls.
Line and Microphone Inputs…Even a Line Output!
It has two line inputs – one with an RCA type pin jack and the other a 1/4″ mono phone jack. The phone jack input is on the front panel.
Magnetically Shielded for AV Applications
It features full magnetic shielding so they can be used in close proximity to video monitors or computer displays without affecting the picture.
TC Furlong offers Yamaha MS202 loudspeaker rentals alongside many other loudspeakers and an extensive rental inventory of professional audio equipment.
Contact the TC Furlong Rental Team today to rent the Yamaha MS202 loudspeaker in Chicago, Suburban Chicago, or nationwide, at 847.367.9588 or rentals@tcfurlong.com.
Yamaha MS202 Rental Documentation: