Mackie Onyx Firewire Card Rental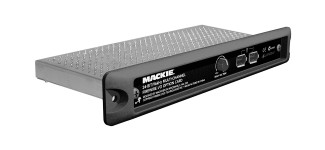 We offer Mackie Onyx Firewire Card rentals in Chicago, the Chicago suburbs, and nationwide.
If you have any questions about a Mackie Onyx Firewire Card rental in Chicago, suburban Chicago, or nationwide, or to reserve your rental, contact our Rental Team at 847.367.9588 or rentals@tcfurlong.com.
The Mackie Onyx Firewire Card is just one of several other brands of microphone preamps in our rental inventory.
TAKING "PLUG-AND-PLAY" TO A WHOLE NEW LEVEL
The Mackie Onyx FireWire Card is a true first. This user-installable 24-bit/96kHz card transforms the Onyx 1220, 1620 and 1640 mixers into fantastic-sounding digital audio interfaces capable of sending up to 18 channels of audio to your Mac or PC — without the need for additional converter boxes or hardware. Thanks to the use of flagship Onyx mic preamps, superior analog circuitry, and class-leading A/D converters, Onyx mixers with FireWire rival the sound quality of dedicated audio interfaces costing many times more. Not to mention the simplicity of plugging in up to 16 microphones and sending them directly from the mixer to your computer… and monitoring a stereo mix back through the mixer.
UP TO 18 CHANNELS W/ ADJUSTABLE SAMPLE RATE
The Onyx FireWire Card allows you to stream up to 18 channels of 24-bit digital audio to your Mac (OSX 10.3.9 or greater) or PC (Win XP). These show up in your audio software as 16 individual audio inputs, plus a stereo  L/R mix. You can also send two channels of audio back from the computer to the mixer for monitoring purposes.
Audio coming back from the computer is conveniently monitored through the Control Room Source matrix, where it is routed to the Phones, Control Room, or Main Mix outputs.
Additionally, you can select the sample rate for the analog-to-digital converters in either the Onyx Control Panel (on the PC) or directly from your audio software (on the Mac — no control panel needed). Sample rate options include 44.1 kHz, 48 kHz, 88.2 kHz, and 96 kHz at 24 bits.
A HUB OF ACTIVITY
The Onyx FireWire card features two 6-pin FireWire connectors that each supply all 16 channels plus the L/R mix. Having dual connectors allows you to place the Onyx mixer anywhere within a chain of FireWire-equipped devices. You can even daisy-chain two 16-channel Onyx mixers via FireWire and send a whopping 32 mic signals right to your laptop. (Mac OSX 10.4 or XP SP2 only: Vista support for mixer chaining coming soon) This makes for a very high-quality live recording rig that conveniently fits in the back seat of your car.
ADJUSTABLE MAIN MIX TRIM
The Onyx FireWire card has a small rotary knob that provides boost and cut for the L/R mix signal being sent to your computer. Since the L/R mix signal is tapped prior to the Main Mix fader, this rotary knob gives you control over the signal level going to your audio software application without affecting your main mix level — a very convenient feature for live recording
User-installable 24-bit/96kHz FireWire I/O Card for Mackie Onyx Series analog mixers
Stream 12 or 16 independent channels of audio, plus stereo mix, directly to Mac or PC (12 ch. + mix on 1220; 16 ch. + mix on 1620 and 1640)
Monitor stereo L/R mix from computer back through mixer with a single button press
FireWire technology provides monitoring through audio software and plug-ins with no noticeable latency
Works with any Windows XP ASIO/WDM host (Cakewalk, Cubase, Sonar, Nuendo, Live, Tracktion, etc.) or any compatible Mac OS X Core Audio host (GarageBand, Logic, Cubase, Sonar, Nuendo, Live, Digital Performer, Tracktion, etc.)
TC Furlong offers Mackie Onyx Firewire Card rentals alongside several other brands of microphone preamps and an extensive rental inventory of professional audio equipment.
Contact the TC Furlong Rental Team today to rent the Mackie Onyx Firewire Card in Chicago, Suburban Chicago, or nationwide, at 847.367.9588 or rentals@tcfurlong.com.
Mackie Onyx Firewire Card Rental Documentation: