AKG C391B Condenser Microphone Rental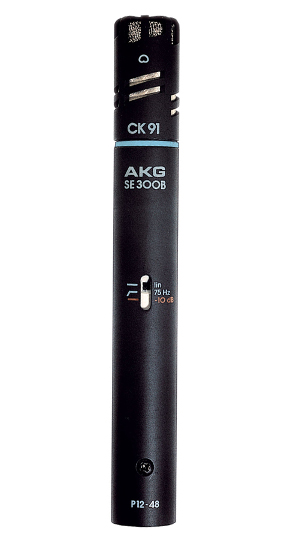 We offer AKG C391B rentals in Chicago, the Chicago suburbs, and nationwide.
If you have any questions about a AKG C391B rental in Chicago, suburban Chicago, or nationwide, or to reserve your rental, contact our Rental Team at 847.367.9588 or rentals@tcfurlong.com.
The AKG C391B is just one of hundreds of wired microphones in our rental inventory.
All C391B rentals include stands, mic clips, and cables.
The C391B system consists of a universal powering/output module (SE 300 B), several microphone capsules and readily-interchangeable accessories to suit all types of application.
The microphone is virtually unaffected by handling noise due to its lightweight diaphragm. Additional features include the all-metal housing, which makes it less susceptible to HF interference, as well as its trouble-free operation in almost all situations due to its conservative and reliable design.
The switchable 10 dB attenuation of the output signal is a major benefit at high sound pressure levels (i.e. high-powered sound sources) and when the input stages of amplifiers or mixing desks have lower maximum input levels. If this option was not available, these connected stages would be overamplified without being able to fully control the microphone.
The switchable bass cut filter of the microphone also helps to suppress low-frequency distortion, such as rumble or wind noises, that cannot be controlled. The filter slope is approx. 12 dB/octave with the corner frequency (-3 dB point) lying at approx. 75 Hz.
Switchable bass cut filter and 10-dB preattenuation pad
Insensitive to handling noise
High resistance to RF interference
Capsules mount directly on SE 300 B powering unit
TC Furlong offers AKG C391B rentals alongside hundreds of wired microphone rentals and an extensive rental inventory of professional audio equipment.
Contact the TC Furlong Rental Team today to rent the AKG C391B in Chicago, Suburban Chicago, or nationwide.
AKG C391B Rental Documentation: