AKG D112 Dynamic Microphone Rental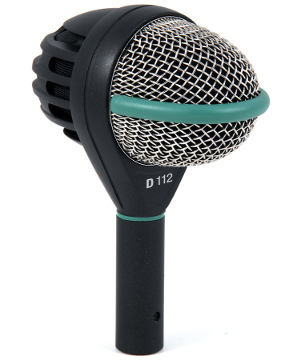 We offer AKG D112 rentals in Chicago, the Chicago suburbs, and nationwide.
If you have any questions about a AKG D112 rental in Chicago, suburban Chicago, or nationwide, or to reserve your rental, contact our Rental Team at 847.367.9588 or rentals@tcfurlong.com.
The AKG D112 is just one of hundreds of wired microphones in our rental inventory.
All D112 rentals include stands, mic clips, and cables.
The AKG D112 has earned a well-deserved reputation worldwide as the best kick drum microphone ever made. Heavy-footed drummers won't faze it, because the D 112 handles up to 160 dB SPL with no audible distortion.
A specially engineered diaphragm with a very low resonance frequency maintains solid and powerful response below 100 Hz, while a narrow band presence rise at 4 kHz punches through dense mixes with little or no added EQ.
The result is a kick drum sound that ideally balances precise definition and forceful impact. The D 112 is also an excellent choice for use with bass cabinets, trombones, etc.
Large-diaphragm dynamic microphone for bass instruments
Extremely high SPL capability
Classic microphone for stage and studio applications
TC Furlong offers AKG D112 rentals alongside hundreds of wired microphone rentals and an extensive rental inventory of professional audio equipment.
Contact the TC Furlong Rental Team today to rent the AKG D112 in Chicago, Suburban Chicago, or nationwide.
AKG D112 Rental Documentation: