Countryman Isomax 2-H Lavalier Microphone Rental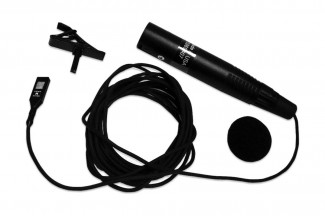 We offer Countryman Isomax 2-H Lavalier rentals in Chicago, the Chicago suburbs, and nationwide.
If you have any questions about a Countryman Isomax 2-H Lavalier rental in Chicago, suburban Chicago, or nationwide, or to reserve your rental, contact our Rental Team at 847.367.9588 or rentals@tcfurlong.com.
The Countryman Isomax 2-H Lavalier is just one of hundreds of microphones in our rental inventory.  It is available in hard-wired format only, and we have string instrument mounts available for close micing of violins, violas, and cellos.
Unlike other choir mics, Countryman's unique Isomax II-H hypercardiod mic is designed to pick up the whole choir evenly. That means the front row of singers doesn't overpower the back rows, and nobody sounds like a soloist simply because he or she is closest to the mic.
With our comprehensive guide to hanging the mics, you can eliminate unwanted noise from the audience, musicians, and monitor speakers. Best of all, the Isomax II-H's coverage pattern reduces the number of mics necessary to capture the whole choir.
You can fly these tiny, lightweight microphones almost invisibly from a thin wire spanning across the choir, rather than suspending bulky equipment from high ceilings. That makes our choir mics infinitely easier to replace, position and control – without the risk of equipment accidentally falling and injuring people below.
Supplied with windscreen, cable spool, stiffener for hanging and phantom-powered preamp.
Virtually invisible mics for choir, stage and audience
Unusually uniform pickup over entire choir or production
Text book perfect cardioid and hypercardioid polar patterns for excellent stereo separation and rejection of unwanted sounds
Precision directional patterns are uniform with frequency
Excellent gain before feedback
Handles high SPL
Sleek, small, lightweight mic doesn't distract performers or house
Easy to hang without scaffolding
Special 50′ cable won't twist with temperature changes.
TC Furlong offers Countryman Isomax 2-H Lavalier rentals alongside hundreds of microphone rentals and an extensive rental inventory of professional audio equipment.
Contact the TC Furlong Rental Team today to rent the Countryman Isomax 2-H Lavalier in Chicago, Suburban Chicago, or nationwide, at 847.367.9588 or rentals@tcfurlong.com.
Countryman Isomax 2-H Lavalier Rental Documentation: