DPA d:vote Instrument Microphone Rental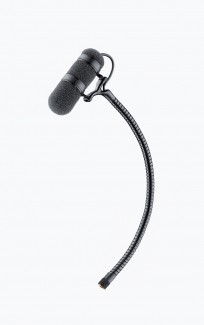 We offer DPA d:vote Instrument Microphone rentals in Chicago, the Chicago suburbs, and nationwide.
If you have any questions about a DPA d:vote Instrument Microphone rental in Chicago, suburban Chicago, or nationwide, or to reserve your rental, contact our Rental Team at 847.367.9588 or rentals@tcfurlong.com.
The DPA d:vote Instrument Microphone is just one of hundreds of microphones in our rental inventory.  It is available in wireless and hard-wired formats, and has mounting options for string instruments, guitars, and horns.
All d:vote Instrument Microphone rentals include mic clips and cables (if applicable).
Perfect for PA amplification and live recording of acoustic guitar, mandolin, ukulele and dobro, the DPA d:vote offers practically unlimited placement possibilities as well as a sound that is considerably more natural than an internal microphone or pick-up.
The d:vote is a unique clip microphone inheriting the sonic approach from the legendary DPA studio microphones to a new instrument microphone. The d:vote microphone and mounting system is meticulously designed and optimized for the guitar family. This is to ensure the best possible mount and audio reinforcement is achieved when performing live. The d:vote fits instruments with a body depth between 35 mm (1.4 in) and 122 mm (4.8 in).
Representing years of research and development, the d:vote condenser microphones feature supercardioid polar patterns for superior gain-before-feedback. Fully capable of handling the guitar's dynamic range and subtle details, these microphones live up to their pedigree with sound as accurate as DPA's other world-class microphones.
Despite its tiny, discreet size and elegant, lightweight design, d:vote is extremely rugged. The versatile gooseneck provides stable and repeatable positioning. The mics can be easily unclipped and repositioned or moved to another instrument with only one hand, while the mounting system is designed never to mar or scratch the finish of your instrument.
Reduce cable clutter on stage by using the DAOd:vote Double Cable. The cable carries both the d:vote mic extension cable and a pick-up jack connection in one dual cable run in a nylon sock. The jack uses high quality Mogami cable and gold Neutrik connectors. At the instrument end there is a right-angled connector. The microphone extension is the DPA miniature cable.
Through the use of our extensive adapter system, the d:vote is compatible with virtually any wireless system and can also be used as a standard 48V phantom powered microphone via the included XLR connector.
Fleet owners of d:votes will appreciate the multiplicity of using the microphone for a number of different instruments simply by moving the microphone/gooseneck part to another instrument clip from the range.
With its very flexible design for a wide variety of mounting and positioning possibilities along with its extremely natural sound, the d:vote is truly a musician's mic without equal. Continuing DPA's heritage of sonic excellence, this series of microphones achieves the purest reproduction of your instrument and therefore your full range of expression.
Directional characteristics: Supercardioid
Principle of operation: Pressure gradient
Cartridge type: Pre-polarized condenser
Frequency range: 20 Hz to 20 kHz
Frequency range, ± 2 dB, 20 cm (7.9 in) distance: 80 Hz to 15 kHz with 2 dB soft boost at 10 to 12 kHz, Second order low-cut filter at 80 Hz with DADd:vote-BC
Sensitivity, nominal, ±3 dB: 6 mV/Pa; – 44,5 dB re. 1 V/Pa
Equivalent noise level A-weighted: Typ. 23 dB(A) re. 20 µPa (max. 26 dB(A))
S/N ratio, re. 1 kHz at 1 Pa (94 dB SPL): 71 dB
Total harmonic distortion (THD): <1 % up to 123 dB SPL peak; <1 % up to 120 dB SPL RMS sine
Dynamic range: 100 dB
Max. SPL, peak before clipping: 142 dB
Output impedance: From MicroDot: 30 to 40 ohm, from DADd:vote-BC:  100 ohm
Cable drive capability: 300 m (984 ft) with DADd:vote-BC
Output balance principle: Signal balanced with DADd:vote-BC XLR adapter
Common Mode Rejection Ratio (CMRR): > 60 dB at 50 Hz to 15 kHz with DADd:vote-BC XLR adapter
Power supply: Min. 5 V to max. 50 V through DPA adapter for wireless systems; 48 V phantom power ±4 V with DADd:vote-BC XLR adapter
Current consumption: 1.5 mA; 3.5 mA with DADd:vote-BC XLR adapter
Connector: MicroDot
Color: Black
Weight: 36 g (1.27 oz)
Capsule diameter: 5.4 mm (0.2 in)
Microphone length: 45 mm (1.8 in)
Cable length: 1.8 m (6 ft)
Polarity: Positively increasing sound pressure produces positive going voltage at MicroDot pin (and pin 2 on DADd:vote-BC XLR adapter)
Operating temperature range: -40 °C to 45 °C (-40 °F to 113 °F)
Relative humidity: Up to 90 %
Gooseneck, length: 140 mm (5.5 in)
Holder: Fits instruments with a body depth between 35 mm (1.4 in) and 122 mm (4.8 in)
TC Furlong offers DPA d:vote Instrument Microphone rentals alongside hundreds of microphone rentals and an extensive rental inventory of professional audio equipment.
Contact the TC Furlong Rental Team today to rent the DPA d:vote Instrument Microphone in Chicago, Suburban Chicago, or nationwide, at 847.367.9588 or rentals@tcfurlong.com.
DPA d:vote Instrument Microphone Rental Documentation: