Neumann KM184 Condenser Microphone Rental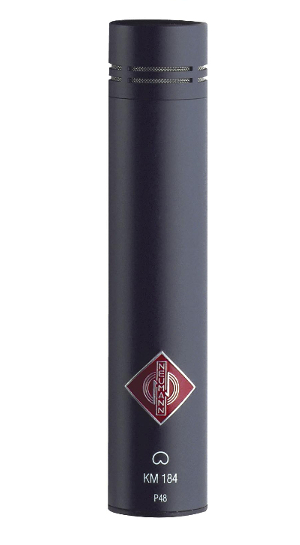 We offer Neumann KM184 rentals in Chicago, the Chicago suburbs, and nationwide.
If you have any questions about a Neumann KM184 rental in Chicago, suburban Chicago, or nationwide, or to reserve your rental, contact our Rental Team at 847.367.9588 or rentals@tcfurlong.com.
The Neumann KM184 is just one of hundreds of wired microphones in our rental inventory.
All KM184 rentals include stands, mic clips, and cables.
Their slender shapes and the transmission characteristics described below make the "Series 180" especially suitable for a very wide range of tasks in the radio and television sector.
The KM 183 and KM 184 microphones are the successors of the well proven KM 83 and KM 84, which have been used since the seventies worldwide with great success. The KM 185 rounds out the series with a hypercardioid microphone.
The pressure gradient transducer KM 184 features a very smooth frequency response not only for the 0° axis, but also for lateral (off-axis) sound incidence. In typical usage, there is no coloration of sound over a wide pickup angle.
Although the KM 184 has the same capsule as the KM 84, the microphone differs slightly on the 0° frequency response: The KM 184 has a gentle rise at about 9 kHz, a characteristic that was introduced very successfully with the KM 140. The result is a tonal balance that is fresher and livelier when compared to the KM 84 with its flat frequency response in that band.
For universal use, especially for recording situations when it is necessary to attenuate off-axis sound (mainly from the rear) from other nearby instruments.
As XY and ORTF stereo pair
Announcer's mic for broadcasting
Spot mic, overhead
Close miking of strings, wind instruments, percussion, piano, Leslie speakers, guitar amps
TC Furlong offers Neumann KM184 rentals alongside hundreds of wired microphone rentals and an extensive rental inventory of professional audio equipment.
Contact the TC Furlong Rental Team today to rent the Neumann KM184 in Chicago, Suburban Chicago, or nationwide.
Neumann KM184 Rental Documentation: