Neumann TLM 170i Condenser Microphone Rental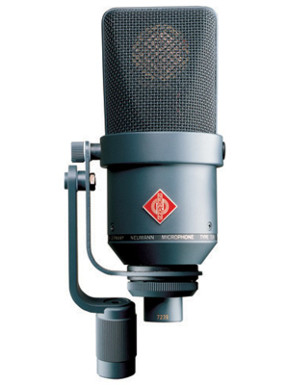 We offer Neumann TLM 170i rentals in Chicago, the Chicago suburbs, and nationwide.
If you have any questions about a Neumann TLM 170i rental in Chicago, suburban Chicago, or nationwide, or to reserve your rental, contact our Rental Team at 847.367.9588 or rentals@tcfurlong.com.
The Neumann TLM 170i is just one of hundreds of wired microphones in our rental inventory.
All TLM 170i rentals include stands, mic clips, and cables.
The Neumann TLM 170i condenser microphone is a large diaphragm microphone with multiple polar patterns. Its sound has a very transparent characteristic, in contrast to some of our other microphones that have a distinct personality.
Therefore, this microphone is used for many diverse applications in professional recording studios, in broadcasting, film and television, and for semiprofessional productions. The polar patterns can be selected either at the microphone itself, or controlled remotely through the special N 248 power supply.
The microphone is addressed from the front, marked with the Neumann logo. The large diaphragm capsule inside the headgrille has a very smooth frequency response for all polar patterns over a wide acceptance angle. The curves are flat and parallel to the 0° frequency curve up to 10 kHz within an angle of ± 100°.
As a result the TLM 170i has a very even diffuse-field response for all polar patterns. This is important in a reverberant environment, as more reflections arrive at the microphone from different directions. The acoustic information is not affected in its tonal quality when recorded by the microphone. This characteristic is achieved without resorting to corrective resonance effects.
Therefore, the microphone maintains an excellent impulse response reproducing all transient phenomena of music and speech without any coloration. The capsule is elastically mounted to avoid any structure borne noise that could interfere with its operation.
Pressure-gradient transducer with double membrane capsule
Five directional characteristics: omni, wide angle cardioid, cardioid, hypercardioid, figure-8
Patented circuitry for remote and local switching of directional characteristics
Switchable low frequency roll-off and 10 dB preattenuation
Tiltable, elastically suspended bracket mount
TC Furlong offers Neumann TLM 170i rentals alongside hundreds of wired microphone rentals and an extensive rental inventory of professional audio equipment.
Contact the TC Furlong Rental Team today to rent the Neumann TLM 170i in Chicago, Suburban Chicago, or nationwide.
Neumann TLM 170i Rental Documentation: