Neumann U 89 i Condenser Microphone Rental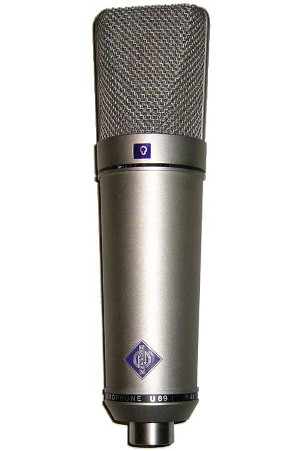 We offer Neumann U 89 i rentals in Chicago, the Chicago suburbs, and nationwide.
If you have any questions about a Neumann U 89 i rental in Chicago, suburban Chicago, or nationwide, or to reserve your rental, contact our Rental Team at 847.367.9588 or rentals@tcfurlong.com.
The Neumann U 89 i is just one of hundreds of wired microphones in our rental inventory.
All U 89 i rentals include stands, mic clips, and cables.
The Neumann U 89 i is a studio microphone for universal applications. The headgrille protects a dual-diaphragm capsule. A rotary switch below the headgrille selects from five different polar patterns. Therefore the microphone can be adapted easily to large sound sources, and those that are spread wide apart, or to sound sources to be recorded at a greater distance.
The amplifier accepts sound pressure levels up to 134 dB without distortion. This figure can be increased to 140 dB. An additional rotary switch activates a filter that changes the low frequency response either below 80 Hz or 160 Hz frequency.
The U 89 i is similar in appearance to the U 87. It is of smaller size, and lighter weight. It features five instead of three directional characteristics and a higher maximum sound pressure level which make this microphone easier adaptable to different applications.
In addition to the usual directional polar patterns: omnidirectional, cardioid, and figure-8, we have added a hypercardioid and wide-angle cardioid characteristic. When compared to the standard cardioid pattern, the hypercardioid characteristic suppresses sound from the side more efficiently. The wide-angle polar pattern is especially useful to record large sound sources.
The microphone is addressed from the front, marked with the Neumann logo. The large diaphragm capsule has a very smooth frequency response for all polar patterns over a wide acceptance angle. The frequency response curves are flat up to 10 kHz within a pickup angle of ± 100°.
As a result the U 89 i has a very even diffuse-field response for all polar patterns. This is important in a reverberant environment when more reflections arrive at the microphone capsule. The acoustic information is not affected in its tonal quality when recorded by the microphone. This characteristic is achieved without resorting to corrective resonance effects. The capsule it is elastically mounted to avoid any structure borne noise that could interfere with its operation.
Due to its price and flexible field of application, the U 89 i is ideal for the home recording and project studio sector, as well as for the broadcasting area, especially when clear lines of sight to the speakers are a priority.
Variable large diaphragm microphone
Pressure-gradient transducer with double membrane capsule
Five directional characteristics: omni, wide angle cardioid, cardioid, hypercardioid, figure-8
Thereby most versatile in all recording situations
Two-stage roll-off filter
Switchable 6 dB pre-attenuation
Extended frequency range in comparison to U 87 Ai
TC Furlong offers Neumann U 89 i rentals alongside hundreds of wired microphone rentals and an extensive rental inventory of professional audio equipment.
Contact the TC Furlong Rental Team today to rent the Neumann U 89 i in Chicago, Suburban Chicago, or nationwide.
Neumann U 89 i Rental Documentation: