Sennheiser MKE1 Lavalier Microphone Rental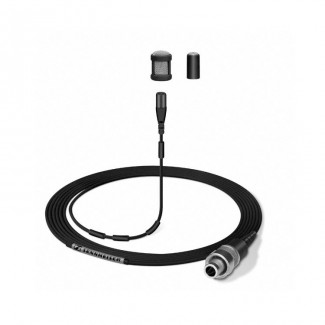 We offer Sennheiser MKE1 Lavalier rentals in Chicago, the Chicago suburbs, and nationwide.
If you have any questions about a Sennheiser MKE1 Lavalier rental in Chicago, suburban Chicago, or nationwide, or to reserve your rental, contact our Rental Team at 847.367.9588 or rentals@tcfurlong.com.
The Sennheiser MKE1 Lavalier is just one of hundreds of microphones in our rental inventory.  It is available in wireless and hard-wired formats.
Our smallest Sound Pro. Whether for musicals, live shows or broadcasting applications, the MKE 1 – Sennheiser's smallest clip-on microphone – performs at its best in all situations in which a microphone needs to be virtually invisible and still offer outstanding sound quality.
Featuring a newly developed, moisture-resistant protective membrane, the MKE 1 stands up better than other clip-on microphones to harsh live conditions. Its special gauze and multi-purpose cap offer additional protection from moisture so that it only picks up what it is meant to pick up – perfect sound. The ultra-thin, heavy-duty cable with molded anti-kink sleeve minimizes handling noise and makes this a microphone you can rely upon completely.
Great strengths – small microphone
Very small dimensions (3.3 mm capsule diameter)
High maximum sound pressure level (142 dB)
Very high speech intelligibility; clear, pleasant treble
Full, natural sound with low ambient noise
Thin (1 mm diameter) and robust cable; flexible with minimum handling noise
Very sweat-resistant due to protective membrane
Flexible tubes for attaching the microphone with clips or adhesive tape
TC Furlong offers Sennheiser MKE1 Lavalier rentals alongside hundreds of microphone rentals and an extensive rental inventory of professional audio equipment.
Contact the TC Furlong Rental Team today to rent the Sennheiser MKE1 Lavalier in Chicago, Suburban Chicago, or nationwide, at 847.367.9588 or rentals@tcfurlong.com.
Sennheiser MKE1 Lavalier Rental Documentation: