Sennheiser MKE2 Gold Lavalier Microphone Rental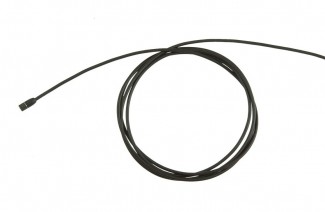 We offer Sennheiser MKE2 Gold Lavalier rentals in Chicago, the Chicago suburbs, and nationwide.
If you have any questions about a Sennheiser MKE2 Gold Lavalier rental in Chicago, suburban Chicago, or nationwide, or to reserve your rental, contact our Rental Team at 847.367.9588 or rentals@tcfurlong.com.
The Sennheiser MKE2 Gold Lavalier is just one of hundreds of microphones in our rental inventory.  It is available in wireless and hard-wired formats.
The Sennheiser MKE 2 Gold sub-miniature omni-directional lavalier is ideal for television broadcast and theatrical productions. Its accurate frequency response produces natural, uncolored sound. A unique Umbrella Diaphragm delivers moisture-resistant performance with the identical high audio quality of the industry standard MKE 2 lavalier. Its size makes it not only unobtrusive and easy to conceal, but also offers a textbook perfect omni-directional polar pattern. An extremely thin low mass diaphragm exhibits extraordinary transient response. The microphone also comes with two additional sound inlet caps to tailor the high frequency as needed.
Excellent speech clarity
Gently falling frequency response curve at low frequencies ensures good rejection of handling and wind noise
Minimal inherent self-noise
Omni-directional or cardioid microphone capsules, can be quickly interchanged
Switchable bass roll-off filter protects against rumble, handling, pop and wind noise
On/off switch with battery test position
High output low noise
TC Furlong offers Sennheiser MKE2 Gold Lavalier rentals alongside hundreds of microphone rentals and an extensive rental inventory of professional audio equipment.
Contact the TC Furlong Rental Team today to rent the Sennheiser MKE2 Gold Lavalier in Chicago, Suburban Chicago, or nationwide, at 847.367.9588 or rentals@tcfurlong.com.
Sennheiser MKE2 Gold Lavalier Rental Documentation: