Shure WH30TQG Headset Microphone Rental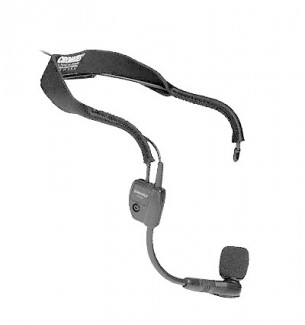 We offer Shure WH30TQG rentals in Chicago, the Chicago suburbs, and nationwide.
If you have any questions about a Shure WH30TQG rental in Chicago, suburban Chicago, or nationwide, or to reserve your rental, contact our Rental Team at 847.367.9588 or rentals@tcfurlong.com.
The Shure WH30TQG is just one of hundreds of microphones in our rental inventory.
The Shure Model WH30 is a light yet rugged headset microphone. Designed for vocalists and instrument-playing vocalists, the WH30 utilizes a high quality electret-condenser cartridge suitable for all applications where mobility, comfort, low microphone-visibility, and high sound quality are required. Because of its cardioid (unidirectional) pickup pattern, the WH30 provides isolation from extraneous sound sources and high gain-before-feedback.
The wireframe and gooseneck adjust to any head size and shape. An integrated elastic headband comfortably pads and secures the headset. The WH30 is supplied with two snap-on windscreens, clothing clip, storage bag and cable-management device.
The WH30 is a perfect fit for those who desire total freedom of movement and need the high-quality audio of a condenser microphone.
Tailored frequency response enhances vocal range
Flexible gooseneck for optimum microphone placement
Isolation shock mount reduces vibration noise
Low-profile, lightweight design
Cardioid polar pattern provides maximum gain before feedback
High sound pressure level capability
Secure snap-on windscreen reduces "p" pops
TC Furlong offers Shure WH30TQG rentals alongside hundreds of microphone rentals and an extensive rental inventory of professional audio equipment.
Contact the TC Furlong Rental Team today to rent the Shure WH30TQG in Chicago, Suburban Chicago, or nationwide, at 847.367.9588 or rentals@tcfurlong.com.
Shure WH30TQG Rental Documentation: