Yamaha SKRM100 Subkick Dynamic Microphone Rental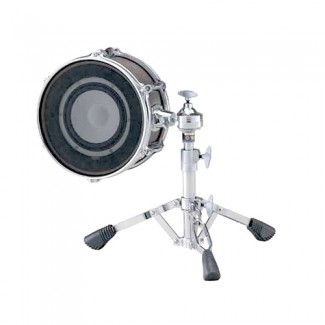 We offer Yamaha SKRM100 Subkick rentals in Chicago, the Chicago suburbs, and nationwide.
If you have any questions about a Yamaha SKRM100 Subkick rental in Chicago, suburban Chicago, or nationwide, or to reserve your rental, contact our Rental Team at 847.367.9588 or rentals@tcfurlong.com.
The Yamaha SKRM100 Subkick is just one of hundreds of wired microphones in our rental inventory.
Yamaha Drum artist Russ Miller had the idea of taking old studio technology and packaging it in a unit that can be used in the studio or on the road. The SKRM-100 Subkick is a low-frequency capture device that picks up the low frequencies (100Hz-2000Hz) that a normal microphone can't. When used in conjunction with a normal internal microphone (for the attack), your kick drum has a jaw-dropping bottom end like you've never heard before.
6.5″ Speaker/Diaphragm
We took a 6.5″ speaker and shock-mounted it into a 10″ drum shell and reverse-wired it to an XLR jack to convert the speaker diaphragm into a microphone diaphragm. This allows Subkick to pick up the low-end that a normal microphone can't.
10″ x 5″ Birch/Mahogany Shell
Mounting the speaker into the shell focuses the sound to direct the signal into the diaphragm. Using our shell makes the Subkick as easy to use on the road as it is in the studio and it looks great with any drum kit.
Comes with specially designed stand
Subkick has our tom-mounting bracket mounted directly to the shell. This mounts to a CL-940 ball clamp that slides into the base of a double braced 800 series snare stand.
Multiple Applications
The flexibility of the stand allows you to use the SKRM-100 for a variety of applications in live or studio situations. It can be used in conjunction with an internal microphone on bass drums and floor toms, djembe, bass guitar cabinets, pianos- …your imagination is the only limitation.
TC Furlong offers Yamaha SKRM100 Subkick rentals alongside hundreds of wired microphone rentals and an extensive rental inventory of professional audio equipment.
Contact the TC Furlong Rental Team today to rent the Yamaha SKRM100 Subkick in Chicago, Suburban Chicago, or nationwide, at 847.367.9588 or rentals@tcfurlong.com.
Yamaha SKRM100 Subkick Rental Documentation: