Avid VENUE Snake Card Rental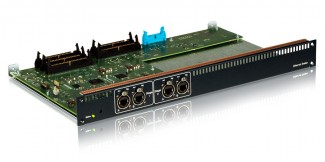 We offer Avid VENUE Snake Card rentals in Chicago, the Chicago suburbs, and nationwide.
If you have any questions about a Avid VENUE Snake Card rental in Chicago, suburban Chicago, or nationwide, or to reserve your rental, contact our Rental Team at 847.367.9588 or rentals@tcfurlong.com.
The Avid VENUE Snake Card is just one of many mixing console accessories in our rental inventory.
The Ethernet Snake Card is an option for the SC48 orMix Rack System, providing Ethernet AVB connectivity between your system and the Stage 48 remote I/O box. This card is required if adding Stage 48 to an existing SC48 or Mix Rack setup.
Get highly reliable connectivity through fully redundant, auto-switching Ethernet AVB
Connect up to two Stage 48 boxes through two pairs of Ethernet ports
Easily verify Ethernet activity and system communication through Activity and Signal LEDs for all primary and redundant connections
Check the status of the Ethernet Snake Card through the multi-color Status LED indicator
TC Furlong offers Avid VENUE Snake Card rentals alongside  many other mixing console accessories and an extensive rental inventory of professional audio equipment.
Contact the TC Furlong Rental Team today to rent the Avid VENUE Snake Card in Chicago, Suburban Chicago, or nationwide, at 847.367.9588 or rentals@tcfurlong.com.