Avid VENUE Stage Rack Rental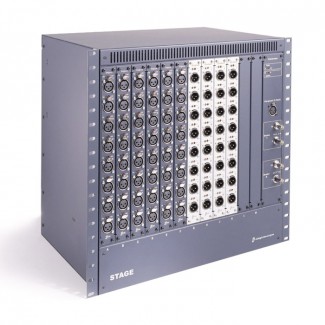 We offer Avid VENUE Stage Rack rentals in Chicago, the Chicago suburbs, and nationwide.
If you have any questions about a Avid VENUE Stage Rack rental in Chicago, suburban Chicago, or nationwide, or to reserve your rental, contact our Rental Team at 847.367.9588 or rentals@tcfurlong.com.
The Avid VENUE Stage Rack is just one of many mixing console accessories in our rental inventory.
Stage Rack serves as the remote I/O component of the D-Show and Profile live sound systems for stage connections. Working in conjunction with the FOH Rack, Stage Rack can be expanded to house a variety of analog and digital inputs and outputs for mic and line-level connections, which are delivered via a 75 Ohm BNC digital snake connection to the DSP Mix Engine cards housed in the FOH Rack. Up to two Stage Racks can be used simultaneously with a D-Show or Profile System to handle large-scale stage productions—up to 96 total mic/line inputs and outputs.
Durable 10-space steel rack houses a maximum of 48 inputs and 48 outputs
Base configuration comes standard with 48 analog XLR mic/line inputs (maximum capacity) and 8 analog XLR line outputs (expandable to 48 with optional output cards)
Up to two Stage Racks can be connected to an FOH Rack for a total I/O count of 96 mic/line inputs and outputs
High-quality remote connection from the Stage Rack to an FOH Rack via dual redundant 75 Ohm BNC digital snakes (not included) delivers maximum audio fidelity
Supports optional analog, digital, and A-Net output cards, which offer additional 8-channel output expansion (up to 48 total outputs)
Customize the I/O with any number and combination of analog and/or digital inputs, analog and/or digital outputs, and A-Net outputs—up to 48 total inputs and outputs in a single rack
Comes standard with dual redundant, field-replaceable power supplies
TC Furlong offers Avid VENUE Stage Rack rentals alongside many other mixing console accessories and an extensive rental inventory of professional audio equipment.
Contact the TC Furlong Rental Team today to rent the Avid VENUE Stage Rack in Chicago, Suburban Chicago, or nationwide, at 847.367.9588 or rentals@tcfurlong.com.
Avid VENUE Stage Rack Rental Documentation: