Mackie 1402-VLZ Analog Mixing Console Rental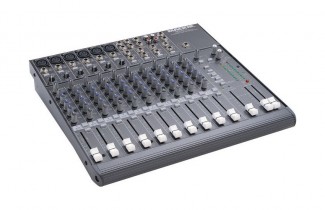 We offer Mackie 1402-VLZ rentals in Chicago, the Chicago suburbs, and nationwide.
If you have any questions about an Mackie 1402-VLZ rental in Chicago, suburban Chicago, or nationwide, or to reserve your rental, contact our Rental Team at 847.367.9588 or rentals@tcfurlong.com.
The Mackie 1402-VLZ is just one of many analog mixing consoles in our rental inventory.
Just slightly larger than the 1202-VLZ, the Mackie 1402-VLZ offers everything its little brother has—plus two additional mic/line channels, faders instead of knobs, and a few extra Master Section features. Ideal for home and project studios, the 1402-VLZ is equally at home on the road, on the stage, or in the recording studio. With its new look, ergonomic carry handle, and upgraded electronics, the new 1402-VLZ just might redefine the term "perfection."
While keeping all the features and functionality of its predecessor, the new Mackie 1402-VLZ offers even greater headroom. We could have stopped right then and there, but we're obsessed with perfection. So we redesigned the Mix Bus, tweaked the EQs, and created a mixer with a highly intuitive, musical feel.
EQUALIZATION 
We invested tremendous resources optimizing the center frequencies of our 3-band Active EQs. By selecting 80Hz, 2.5kHz and 12kHz, for the Lows, Mids and Highs, respectively, we created an even more musical EQ than on previous VLZs. With up to 15dB boost/cut capability per band, VLZ's Active EQ provides more tone-sculpting latitude than any other mixer in its class.
PROFESSIONAL FEATURES
The Mackie 1402-VLZ is packed with premium features on every mic channel: 75Hz Low-Cut filters, two Aux Sends, inserts, phantom power, constant-loudness Pan controls and Pre Fader Solo. And since you can never have too many output options, we provided a Control Room/Phones source matrix, Master Aux section with EFX to Monitor, tape outputs, a high-volume headphone amplifier and balanced XLR and TRS outputs.
NEED EVEN MORE FLEXIBILITY?
Greg Mackie's mind was working overtime when he originally came up with this—instead of sending muted signals into the vacuum of space, why not do something useful with them? So, when you press the mute button on the 1402-VLZ, the signal is indeed muted—but it also appears at the ALT 3-4 output jacks and ALT 3-4 stereo bus. This is an ideal way to create additional Aux Sends and mixes for cry rooms, green rooms, or assistive listening, etc. And with a press of a button, the ALT 3-4 mix can be assigned to the Main output—which means ALT 3-4 can act very much like a "mixer within a mixer." For instance, you could assign the backup vocals to the ALT 3-4 bus and then use the CTL ROOM/SUBMIX fader to add them back into the main mix. Now one fader controls the level of those channels as a single unit.
 6 studio-grade mic preamps
14 high-headroom line inputs
Advanced DC pulse transformer RF rejection
2 Aux sends, level, pan and PFL solo on each channel
2 stereo Aux returns + EFX to Monitor
3-Band Active EQ (80Hz, 2.5kHz, 12kHz)
18dB/oct. 75Hz Lo-Cut filter on Mic input channels
ALT 3/4 stereo bus for added versatility
Control Room/Phones source matrix
Rack-mountable design using optional rack ears
Sealed rotary controls to resist dust and grime
Rugged steel chassis
TC Furlong offers Mackie 1402-VLZ rentals alongside an extensive rental inventory of professional audio equipment.
Contact the TC Furlong Rental Team today to rent the Mackie 1402-VLZ in Chicago, Suburban Chicago, or nationwide, at 847.367.9588 or rentals@tcfurlong.com.
Mackie 1402-VLZ Rental Documentation: