Mackie 1604-VLZ3 Analog Mixing Console Rental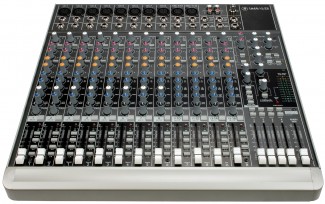 We offer Mackie 1604-VLZ3 rentals in Chicago, the Chicago suburbs, and nationwide.
If you have any questions about an Mackie 1604-VLZ3 rental in Chicago, suburban Chicago, or nationwide, or to reserve your rental, contact our Rental Team at 847.367.9588 or rentals@tcfurlong.com.
The Mackie 1604-VLZ3 is just one of many analog mixing consoles in our rental inventory.
All 1604-VLZ3 mixing console rentals include power cables.
How do you improve on perfection? The Mackie 1604-VLZ Pro has been the long-running favorite of audio professionals the world over for its sound quality, ease of use, and rugged dependability. Thousands of recordings have been tracked and mixed solely on a 1604. Designing a mixer to take its place was a tremendous challenge, indeed. But our engineering team thrives on this kind of stuff, so they tackled this one head on, creating one of the best compact mixers we've ever offered: the Mackie 1604-VLZ3.
While keeping the features and functionality of its predecessor, the Mackie 1604-VLZ3 offers even greater headroom than the original. We could have stopped right then and there, but we're obsessed with perfection. So we redesigned the Mix Bus and made a few circuitry upgrades to the EQ, giving the 1604-VLZ3 a highly intuitive, more musical feel. Whether you need a live mixing board for club work, or a full-featured workhorse for home and studio recording, you owe it to yourself to check out the new Mackie 1604-VLZ3. You'll think it's perfect, too.
VASTLY SUPERIOR XDR2 MIC PREAMPS
Our new XDR2 (Extended Dynamic Range) second-generation mic preamps are better than ever. They offer incredibly low noise, with individual mic pre THD below 0.0007%, and overall mixer THD less than 0.0025%. With 60dB of available gain per channel, the 1604-VLZ3 can handle inputs ranging from a whisper to a scream, and can even handle hot line-level signals up to +22db, without any added coloration. You simply won't find preamps this good on any other mixer in this price range.
PROFESSIONAL FEATURES
Don't let its size fool you. The Mackie 1604-VLZ3 mixer is packed with premium features on every channel; 75Hz Low-Cut filters, four Aux Sends, inserts, phantom power, constant-loudness Pan controls, OL (overload) and signal present LEDs, sub and main mix assign switches, and assignable AFL/PFL Solo switch. And since you can never have too many output options, we provided a Control Room/Phones source matrix, Master Aux section with EFX to Monitor, tape outputs, high-volume headphone amplifier, channels 1-8 direct outs, and balanced XLR and balanced/unbalanced TRS outputs.
THREE-BAND EQUALIZATION WITH SWEEPABLE MIDS
High-quality equalization is a must for any good mixer, that's why we didn't cut any corners when it came to our 3-band Active EQs—and why we include them on every channel. Tremendous resources went into optimizing the center points of the channel EQ. As a result, we put the Lows at 80Hz and the Highs at 12kHz. Midrange compensation is handled by a peaking control with a two-octave variable frequency center. This means the Mids can be swept from a low of 100Hz, all the way up to 8kHz—with a boost or cut of 15dB. This gives VLZ3 mixers practical, useful equalization, providing not only sonic enhancement and correction, but also the tone-shaping facility to actually improve the musical nature of the original signal.
New ultra-low noise VLZ3 design with highest possible headroom
16 studio-grade XDR2 Extended Dynamic Range mic preamps with:
Ultra-wide 60dB gain range
130dB dynamic range
+22dBu line input handling
Extended low frequency response
Distortion under 0.0007% (20Hz – 20kHz)
Phantom power for studio condenser mics
16 high-headroom line inputs, 16 channel inserts
Advanced DC pulse transformer RF rejection
60mm long-wearing logarithmic-taper faders
4 Aux sends, level, pan, -20dB/Solo and Overload/Mute_LEDs on each channel
4 stereo Aux returns, 8 Direct outs, 4 Group/Bus outputs
3-band Active EQ with sweepable midrange
18dB/oct. 75Hz Lo-Cut filter
Control Room/Phones multi-input source matrix
Balanced 1/4″ inputs and outputs (except inserts)
Rack-mountable design with three physical configurations via rotating I/O pod
Sealed rotary controls to resist dust and grime
New Multi-Voltage power supply for worldwide use
Rugged steel chassis
TC Furlong offers Mackie 1604-VLZ3 rentals alongside an extensive rental inventory of professional audio equipment.
Contact the TC Furlong Rental Team today to rent the Mackie 1604-VLZ3 in Chicago, Suburban Chicago, or nationwide.
If you have any questions about an Mackie 1604-VLZ3 rental — contact our Rental Team at 847.367.9588 or rentals@tcfurlong.com.
Mackie 1604-VLZ3 Rental Documentation: