Alesis Fireport Firewire Interface Rental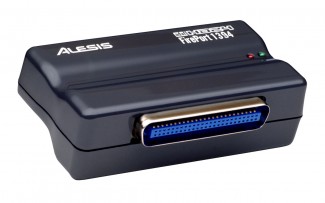 We offer Alesis Fireport Firewire Interface rentals in Chicago, the Chicago suburbs, and nationwide.
If you have any questions about a Alesis Fireport Firewire Interface rental in Chicago, suburban Chicago, or nationwide, or to reserve your rental, contact our Rental Team at 847.367.9588 or rentals@tcfurlong.com.
The Alesis Fireport Firewire Interface is just one of many playback and recording devices in our rental inventory.
At Alesis, "computer" isn't a dirty word. Far from it, we think they're awesome for editing, managing, and mixing audio. That's why the HD24XR and HD24 both have a built-in Ethernet port for easy transfer. That's also why we made the ADAT HD24 FirePort – for pros who need even faster speeds.
Plug an ADAT/FST-formatted drive into the hot-swappable FirePort dock, fire up (no pun intended) the FST/Connect software, and you've got a blazing 400Mb/sec FireWire connection between the stable, affordable tracking of our HD recorders and the editing power of your computer.
Compatible with HD24 and HD24XR drives
Hot-swappable docking station with standard IEEE 1394 FireWire interface
Up to 400/Mb/second FireWire audio transfer from ADAT/FST-formatted drives to computer and back
FST/Connect software included for easy audio transfer and file management, including create/copy/delete on target drive
Convenient desktop design with inline switching power supply
Compatible with Windows 2000, XP, Mac OSX 10.2 and Mac OSX 10.3. MAC-Intel users should have OSX 10.4.6 and Quicktime 7.1.1 installed
TC Furlong offers Alesis Fireport Firewire Interface rentals alongside many other playback and recording devices and an extensive rental inventory of professional audio equipment.
Contact the TC Furlong Rental Team today to rent the Alesis Fireport Firewire Interface in Chicago, Suburban Chicago, or nationwide, at 847.367.9588 or rentals@tcfurlong.com.