Shure DIS-CCU Central Control Unit Rental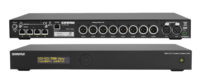 We offer Shure DIS-CCU Central Control Unit rentals in Chicago, the Chicago suburbs, and nationwide.
If you have any questions about a Shure DIS-CCU Central Control Unit rental in Chicago, suburban Chicago, or nationwide, or to reserve your rental, contact our Rental Team at 847.367.9588 or rentals@tcfurlong.com.
The Shure DIS-CCU Central Control Unit is just part of our Shure Digital Discussion system and one of many products available in our rental inventory.
Central control unit for use with DDS 5900 (standard) or DCS 6000 microphone units (requires optional Feature License). In standard DDS 5900 mode, powers up to 60 microphone units and supports up to 250 units. Also supports 2 languages and 32 interpreters. Two analog audio inputs for external sources such as wireless microphones, and 8 analog audio outputs for connection to videoconferencing system, A/V recording equipment, supplemental sound reinforcement system, or wireless language distribution system.
Features include:
Fully digital audio transmission of floor plus 31 interpretation channels and 8 conference microphone audio channels in a single digital bus cable structure using shielded CAT5e cables

OLED display on the front enables the user to setup basic system configurations in terms of maximum number of speakers/requests, microphone operation mode, etc.

TCP/IP Ethernet connection for web browser control, integration with optional SW 6000 software suite, or third party external control system (AMX, Crestron, etc.)

Multi-language web browser for system configuration, microphone/request list control and basic operational parameters via tablet or computer

Built-in seat table for attaching seat numbers and names to units using the web browser

2 Analog audio inputs

8 Analog audio outputs for distribution of audio from eight groups of units, the floor channel or the interpreter channels

Connection for Emergency Evacuation Message (EEM) is available using 'Audio In 2' and a contact closure switch

Firmware upgrade of the entire DCS 6000 system is possible via a PC

Powers up to 60 units without additional power supply (depending on unit type)

Long life, low-noise built-in temperature regulated fan

Horizontal orientation of air stream for easy stacking of units in 19″ racks

External control possible via a 'simple to use' protocol for external control over Ethernet

Using DCS-LAN, a proprietary high-speed all-digital audio channel, data and power bus

Four DCS-LAN chains powered by one external PS CU power supply

Versatile test program available for testing the system performance, the conference units and the interpreter sets

Video-follow-audio camera control with optional CP 7890 Camera Control System
TC Furlong offers Shure DIS-CCU Central Control Unit rentals alongside an extensive rental inventory of other professional audio equipment.
Contact the TC Furlong Rental Team today to rent the Shure DIS-CCU Central Control Unit in Chicago, Suburban Chicago, or nationwide.
Shure DIS-CCU Central Control Unit Rental Documentation: