Shure RP 6004 Repeater Rental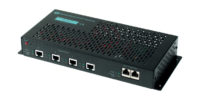 We offer Shure RP 6004 Repeater rentals in Chicago, the Chicago suburbs, and nationwide.
If you have any questions about a Shure RP 6004 Repeater rental in Chicago, suburban Chicago, or nationwide, or to reserve your rental, contact our Rental Team at 847.367.9588 or rentals@tcfurlong.com.
The Shure RP 6004 Repeater is just part of our Shure Digital Discussion system and one of many products available in our rental inventory.
The RP 6004 Repeater unit splits one DCS-LAN chain into four chains. The signal is regenerated to extend the maximum cable length.  The RP 6004 works with DDS 5900 and DCS 6000 Systems.
Features include:
Repeater for providing repeater and splitter functions
Four outputs for connection to conference units, interpreter sets etc.
Delayed switching on of power to the four chains to minimize the total 'switch-on' current on the main switch
TC Furlong offers Shure RP 6004 Repeater rentals alongside an extensive rental inventory of other professional audio equipment.
Contact the TC Furlong Rental Team today to rent the Shure RP 6004 Repeater in Chicago, Suburban Chicago, or nationwide.
Shure RP 6004 Repeater Rental Documentation: