Yamaha CL5 Digital Mixing Console Rental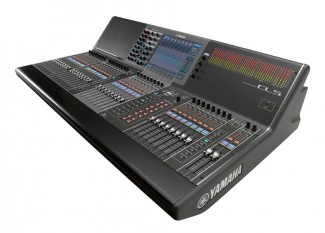 We offer Yamaha CL5 rentals in Chicago, the Chicago suburbs, and nationwide.
If you have any questions about an Yamaha CL5 rental in Chicago, suburban Chicago, or nationwide, or to reserve your rental, contact our Rental Team at 847.367.9588 or rentals@tcfurlong.com.
The Yamaha CL5 is just one of many digital mixing consoles in our rental inventory.
All CL5 mixing console rentals include power supplies and lights.
Yamaha's new CL series digital mixing consoles offer an evolved experience in accessible mixing plus sonic purity and advanced sound shaping capabilities that will give the most imaginative engineers unprecedented creative freedom. Yamaha CL series digital mixing consoles represent a new level of refinement. They offer an evolved experience in accessible mixing, plus sonic purity with sound shaping capabilities that will give the most imaginative engineer unprecedented creative freedom. The CL series embodies the leading standards in live sound in their most advanced, most expressive form.
The CL Series EQ and effects have been vastly expanded. They include an Effect Rack that features VCM analog circuitry modeling technology, as well as a Premium Rack that includes the Rupert Neve Designs Portico 5033 equalizer and Portico 5043 compressor/limiter, developed in close cooperation with Rupert Neve himself. Yamaha began working with Rupert Neve Designs in 2010, developing devices based on Yamaha's VCM (Virtual Circuitry Modeling) technology. Rupert Neve had this to say about the outstanding quality of the VCM models of the Portico 5033 Equalizer and Portico 5043 Compressor: "This is a very exciting time, because for the first time we have the capability of bringing Rupert Neve sound into the live sound field. This is entirely due to the Yamaha VCM technology. I do believe that it is indistinguishable from the original analog sound."
Two new rack-mountable I/O units, the Rio3224-D and Rio1608-D, can be used in a variety of combinations and configurations, communicating via a scalable Audinate Dante™ digital audio network. Up to eight I/O rack units can be connected to a CL series console, while multiple CL series consoles can share control of the same I/O rack unit. A new Gain Compensation function adds the ability to combine FOH and monitor control via a single network, for comprehensive digital live sound integration.
Extra flexibility is provided by the CL StageMix application for iPad, providing wireless remote control capability for setting up and operating CL consoles from anywhere on stage or in the audience seating area. The Yamaha Console File Converter is another useful computer application, allowing data to be shared between CL series, PM5D, M7CL, and LS9 consoles, so data from one show doesn't have to be completely reprogrammed from scratch for the next, even if different consoles are used.
Dual 8-fader sections in a space-saving console that can be used alone or cascaded to another CL console for input expansion.
Input channels: 48 mono, 8 stereo.
Fader configuration: 8-fader left section, 8-fader Centralogic section, 2-fader master section.
Meter bridge optional.
Advantages of Dante Networking:
Large bandwidth capability
Long cable length capability
Uncompressed multi-channel, low-latency digital audio over a standard ethernet network
Higher channel count and automatic configuration
No need for masses of bulky, heavy, expensive, inflexible copper wires
Simple, single lightweight and inexpensive cat5 cable
Integrated media and control
 Control signals on the network without additional cabling
Leverage off the shelf IT equipment to take full advantage of IT industry developments in functionality, reliability, availability and cost savings
TC Furlong offers Yamaha CL5 rentals alongside many other digital mixing consoles and an extensive rental inventory of professional audio equipment.
Contact the TC Furlong Rental Team today to rent the Yamaha CL5 in Chicago, Suburban Chicago, or nationwide.
Yamaha CL5 Rental Documentation: