Lectrosonics R400A/MM400C/M152 Waterproof Wireless Microphone System Rentals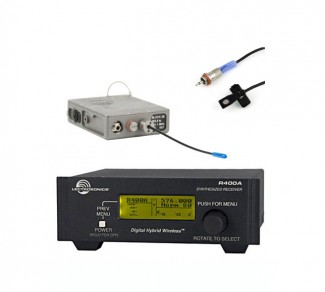 We offer Lectrosonics R400A/MM400C/M152 wireless microphone system rentals in Chicago, the Chicago suburbs, and nationwide.
If you have any questions about a Lectrosonics R400A/MM400C/M152 wireless microphone system rental in Chicago, suburban Chicago, or nationwide, or to reserve your rental, contact our Rental Team at 847.367.9588 or rentals@tcfurlong.com.
The Lectrosonics R400A/MM400C/M152 combo pack is one of several wireless microphone systems in our rental inventory.
Lectrosonics R400A/MM400C/M152 wireless microphone system rentals are available in bodypack configurations, and come with the TC Furlong Wireless Advantage.
All Lectrosonics R400A/MM400C/M152 wireless microphone system rentals include waterproof microphones (Lectrosonics M152), waterproof transmitters, receivers, stands, mic clips, and cables.
We offer Lectrosonics RA400A/MM400C/M152 rentals in most U.S. frequency blocks. Call us at 847-367-9588 to check availability.
The R400a is a high performance, triple-conversion, frequency synthesized, UHF receiver fully compatible with all Lectrosonics 400 series transmitters, and a number of analog models. The proprietary audio processing includes a DSP (digital signal processor) for very low distortion and a superior signal to noise ratio. The DSP eliminates a compandor and its artifacts to provide exceptional audio quality when operating in its native hybrid mode. Special DSP algorithms also provide compatibility modes for use with Lectrosonics 100 and 200 Series analog transmitters.
The R400a features a powerful menu-driven LCD graphic display operated with a push-button switch and a dual function rotary encoder control as a convenient means of viewing and altering settings. The LCD main window displays the pilot tone indicator, diversity antenna activity, RF and audio levels, operating frequency, transmitter frequency switch settings and transmitter battery status. Settings can be changed using the MENU functions. A built-in RF spectrum analyzer is included to conduct site surveys to find interference-free operating frequencies. The analyzer quickly tunes the receiver across its 256 frequencies and records a marker on the LCD indicating the strength of any RF signals picked up. Within less than a minute, a complete display is generated showing the RF activity across the entire tuning range of the receiver. An area with little or no RF activity is then easy to locate and select.
The rugged, water resistant MM400C is based on Digital Hybrid Wireless technology, a revolutionary new design that combines 24-bit digital audio with an analog FM radio link. The result is outstanding audio quality plus the extended operating range of the best analog wireless systems in a package that can withstand the most extreme moisture and temperature environments.
The MM400C is conveniently powered by a single AA battery, with internal switching power supplies providing constant voltages to the transmitter circuits from the beginning (1.5 volts) to the end (0.85 volts) of battery life. The 100 mW output with an RF circulator/isolator in the output stage provides excellent operating range while virtually eliminating intermodulation problems common in multichannel environments. The 4.5 hour battery life (lithium) is comparable to standard transmitter models operating on 9 V batteries.
Lectrosonics R400A wireless receiver features:
Digital Hybrid Wireless
SmartSquelch
SmartDiversity
SmartTune for auto frequency selection
256 selectable UHF frequencies
RF-controlled digital noise filters
Low noise, Robust RF Front End
DSP-based pilot tone
Graphics type backlit LCD display
Independent balanced XLR and unbalanced 1/4-inch audio outputs
Compatiblity modes for use with analog transmitters
Lectrosonics MM400C wireless transmitter features:
Waterproof Power/Mute switch
Water resistant, rugged, machined aluminum housing with noncorrosive, superhard finish
Digital Hybrid Wireless system
256 synthesized UHF frequencies
100 mW output power
Dual bicolor LEDs indicate four different levels for accurate gain adjustment
DSP based pilot-tone signal eliminates squelch problems
Backward compatible to earlier technologies
Why rent Lectrosonics R400A/MM400C/M152 wireless microphone systems from TC Furlong Inc.?
The TC Furlong Wireless Advantage.
When renting a Lectrosonics R400A/MM400C/M152 wireless microphone system, we provide more than just transmitters and receivers.  Each system is designed specifically for your rental, and benefits from our decades of expertise in wireless design and operation.
Frequency coordination for your performance location for all Lectrosonics R400A/MM400C/M152 rentals.  We have the knowledge and specialized tools to accurately coordinate your wireless microphone rental with other wireless and avoid local broadcasters.
Custom configurations.  Every Lectrosonics R400A/MM400C/M152 rental we send out is designed specifically for that job.  We don't pre-configure any wireless before we know exactly what you need.
Every Lectrosonics R400A/MM400C/M152 rental is loaded with fresh batteries, then tested as a system before it leaves our shop to guarantee performance at your show site.
The correct antenna for the job.  We deploy a wide range of antennas for many different applications.  From log-periodic and omni antennas to helically- and circularly-polarized antennas, we have the correct antenna for your job.
Extras including RF scanners, antenna distribution, high- and low-pass filters, and low-loss cable to help improve signal strength.
Auxiliary gear to interface our wireless with your system.
TC Furlong offers Lectrosonics R400A/MM400C/M152 wireless microphone system rentals alongside hundreds of other wireless microphone rentals and an extensive rental inventory of professional audio equipment.
Contact the TC Furlong Rental Team today to rent a Lectrosonics R400A/MM400C/M152 wireless microphone system in Chicago, Suburban Chicago, or nationwide, at 847.367.9588 or rentals@tcfurlong.com.
Lectrosonics R400A/MM400C/M152 Rental Documentation:
Lectrosonics R400A Rental Manual (PDF)