TC Furlong Products
Custom MiniTRS-TA4F Cable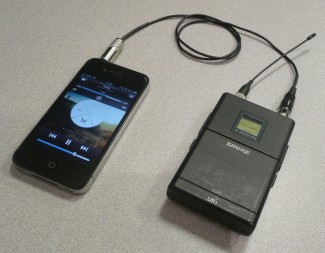 This custom cable allows you to send audio from an iPhone, iPad, or other 1/8″ headphone jack to a Shure wireless bodypack transmitter with a TA4M connector (UR1, UR1M, ULXD1, ULX1, SLX1, and others).
The cable sums the stereo signal to mono and provides the necessary circuitry for the bodypack transmitter to receive the audio signal.
We use this piece regularly for walk-testing wireless microphone coverage—much easier to play music through the transmitter than to continually talk through a microphone.
We've also had clients use these cables with iPhone or iPad music apps for live performance without wires.
$51 + applicable tax and shipping—available in 3′ and 6′ lengths.
**iPhone and bodypack not included.**
A stereo version sending signal to two wireless beltpacks is available as well – please call for pricing.
To place an order for these products, please contact our sales team at 847.367.9588 or sales@tcfurlong.com