By Oz, Sales/Marketing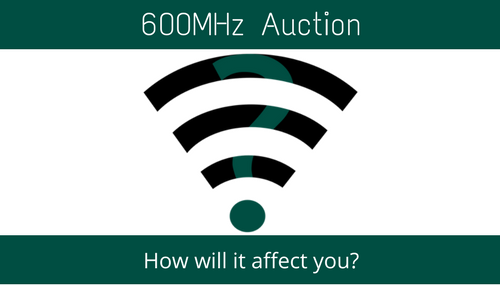 It is growing ever more important to be aware of the changing RF landscape. Since the FCC finished the incentive auction for the 600 MHz band, the implications of that sale have become clear.
The sale of the 600 MHz band will displace many TV channels in the 600MHz band. The FCC has re-assigned them to empty space in the lower part of the spectrum. This "repack" will make the space that is usable by standard UHF wireless systems even more crowded and will affect how legal wireless microphones systems will work.
Whether you are considering purchasing new wireless or simply wanting to ensure the usefulness of what you already have, here are a few important things to keep in mind:
If any of your current wireless systems can operate somewhere between 614-698 MHz, they will be illegal to use as of July 2019. This expanded time period is intended to give TV channels and other users time to shift their systems out of that part of the UHF spectrum. However, the companies who purchased a large portion of the spectrum have already received approval to begin testing in the 600 MHz space. This could mean that systems operating in the 600 MHz range will become less viable and more difficult to tune to open frequencies.
If you own a wireless system that operates in the 600 MHz range, the best course of action is to replace it with a system that operates outside of that range. Shure Inc. is offering a rebate program to encourage these upgrades, and it is likely that other manufacturers will follow suit soon. We will continue to update our website with more rebate information as it comes available.
The TV channel repack will crowd the remaining open portions of the UHF spectrum. Systems that up until now have operated fine will likely be less able to find open operating frequencies. It is becoming more and more important to diversify operating frequencies. As far as we know now, this process will not begin in the Chicago area for another two years, but it may begin sooner in other metropolitan areas.
Due to the auction and re-pack, many manufacturers have begun building systems that operate outside the UHF spectrum. While switching away from UHF may be a potential safeguard against current or future issues, it is important to recognize all of the implications of making a switch, including needing new antennas, encountering other interference, or issues integrating systems that operate in different parts of the spectrum.
While the continued spectrum changes do present challenges to the live sound industry, TC Furlong Inc. is dedicated to staying on top of all the newest information and making sure you know what to expect. For regular updates on the 600 MHz sale and the TV channel re-pack, sign up for our 600 MHz newsletter below. If you have any questions about this information, feel free to contact our sales team at 847-367-9588 or sales@tcfurlong.com
---