About TC Furlong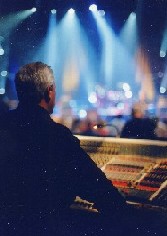 Our focus: Better Audio By Design.
We're not a truck full of sound equipment.  Not a warehouse of random speakers, mixers, and microphones for sale or rent.
We don't classify ourselves as "retailer," "rental company," or "production company"—because we're all of those things—and a few others as well.
Our philosophy?  It's not enough to just provide great audio equipment.
Our real strength is in listening to our clients and designing solutions.
This is something we've put into practice since opening our doors in 1973.  Even starting out as a manufacturer, we put our focus on offering great service in addition to great products.  We rented out not only the equipment we produced, but also all necessary complements to provide customers with the perfect solution for their needs.
Today we're still guided by the same motives: to provide well-designed audio solutions to our clients.
It's why our staff is comprised solely of sound engineers, technicians, and industry veterans—each equipped with the knowledge to design the perfect solution for your audio needs.
With an extensive product inventory, knowledgeable and experienced staff, and an obsession with outstanding service, we do our best to deliver an experience as superior as the sound quality we provide.
We hope you'll see for yourself soon.  Give us a call at 847-367-9588, or learn more about our services below.