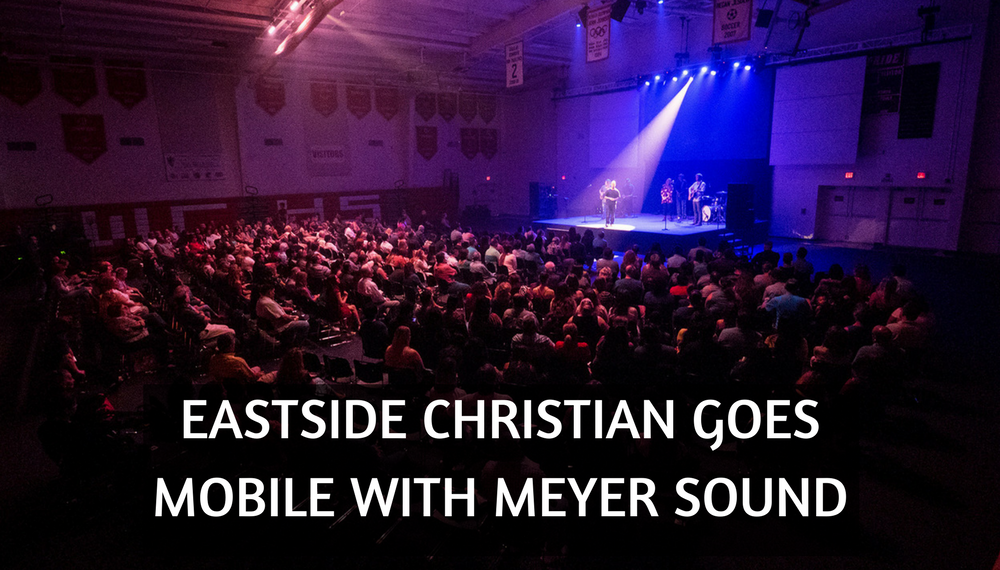 Introduction By TC Furlong:
When Chris Gille called about Eastside Christian Church in Anaheim, CA opening a satellite location in LaHabra, CA, I was eager to get down to designing a system. But then Chris told me that it would be in a gymnasium, it would need to be portable, and it needed to get loud. Always up for a challenge, I rolled up my sleeves and got to work. Around that time, I connected with Daniel Rivera of Meyer Sound about his idea to have an affordable, "first step" configuration of Meyer Sound's newest star loudspeaker LEOPARD. Daniel's vision was to configure two ground stacks, each containing three LEOPARD over one 900LFC (my favorite subwoofer in the world).
We had recently purchased a large LEOPARD system for our rental inventory so I was already familiar with this great and powerful speaker. We had also added six 900LFC so I knew these would be a great choice. The next hurdle was to figure out how to keep the system portable and in a "pre-wired" state. Chris Gille, master of everything production related said he would have metal carts fabricated – we went back and forth on the minimum height and before I could say "custom carts" Gille had them ready.
When I arrived in LaHabra to calibrate the system with our SIM3 system, it all came together really well. The system was uber-linear, powerful and punchy. It was all smiles when we finished and from what I understand, they continue to remain very pleased with the system. The fact that both Meyer Sound LEOPARD and 900LFC remain linear from soft to loud was just the ticket for this critical application.
-TC Furlong
---
This artical was originally posted by Meyer Sound
A new satellite site for Southern California's Eastside Christian Church is the first to benefit from the power, clarity and quick set-up offered by an innovative portable system of Meyer Sound LEOPARD™ line array loudspeakers. Installed on carts that are rolled into place weekly by volunteers, the self-contained arrays deliver ample power to supply sound for up to 800 worshippers gathered in the gymnasium of Whittier Christian High School, located about nine miles from the church's Anaheim main campus.
For Chris Gille, Eastside's CTO and chief systems engineer, the ready-made LEOPARD arrays turned out to be the ideal solution to a vexing problem common to nearly all portable churches borrowing gymnasiums for worship.
"We have extremely high standards for audio quality at our main campus, where we have Meyer Sound MICA arrays and Constellation active acoustics," he says. "I knew the smaller LEOPARD would be a good fit here, but the question was, 'Where do we put them?' Flying was problematic because we didn't want to be locked into fixed seating layouts. Also, there are strict regulations about clearance for sports activities and safety, which meant motorizing the hangs. All of that would be cost prohibitive."
The eventual design solution was a collaborative effort, with a ready-made solution mounted on carts proposed by Meyer Sound House of Worship Specialist Daniel Rivera and further developed by Gille and T.C. Furlong of the eventual system supplier, Lake Forest, Illinois-based TC Furlong, Inc.
"It works extremely well," says Gille. "It sends out a narrow lobe that skims peoples' heads, and it's a perfect match for the room's acoustic treatments. We have more than enough headroom to let the worship band go anywhere they want musically, even if we pull out the bleachers and fill the room to its maximum of 800 people."
The complete system comprises six LEOPARD line array loudspeakers and two 900-LFC low-frequency control units split across the two carts. Space at the bottom on one side accommodates an MDM-832 distribution module and Galileo® 616 loudspeaker processing system while the opposite cart holds the color-coded audio cables and AC mains cable during storage. "We can have the LEOPARD rig rolled out and ready in under 15 minutes, and all the audio ready inside an hour," says Gille. "Including stage and seating, the total prep time is about three hours."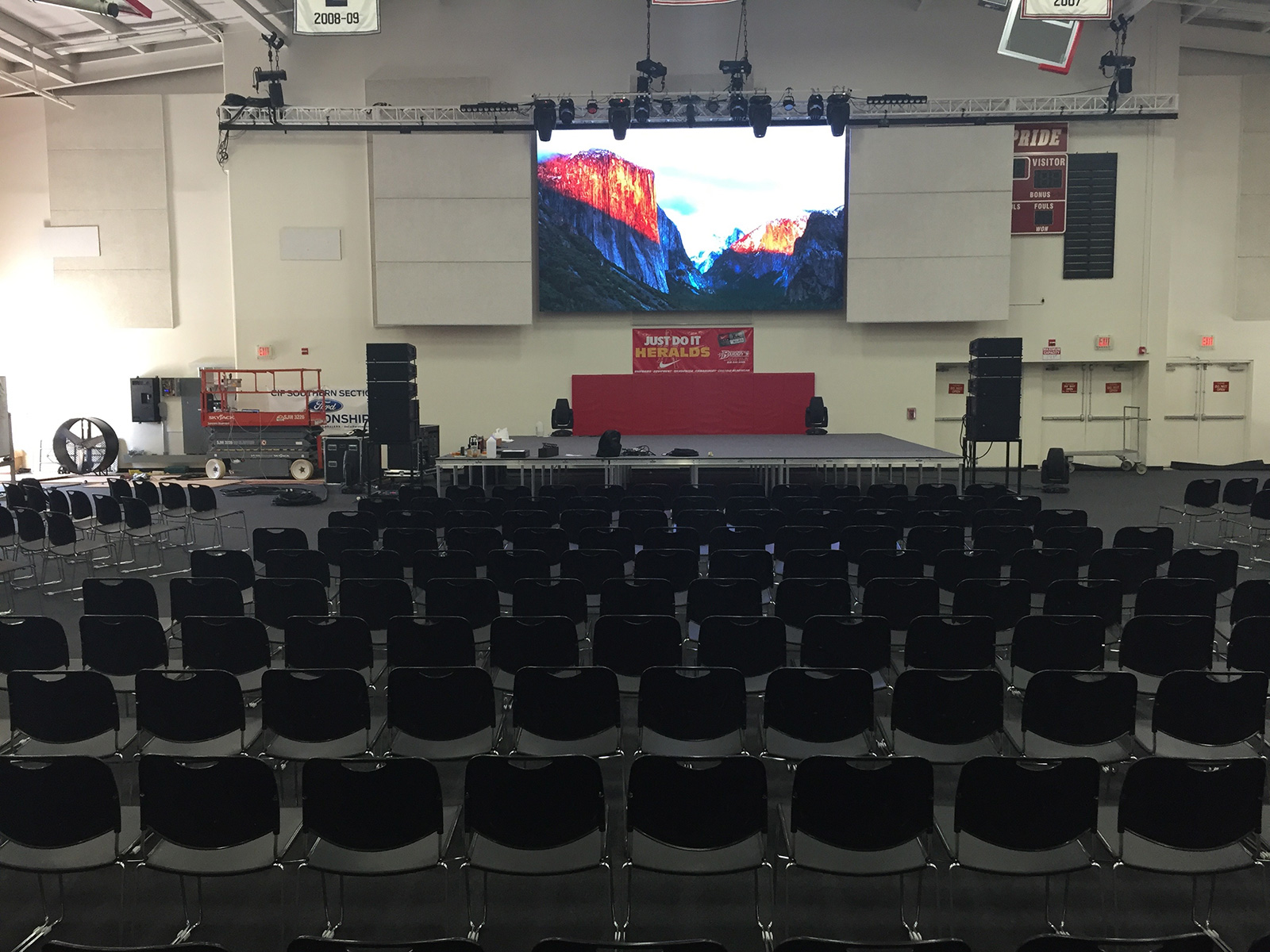 Gille specified some added acoustic treatments to complement the system coverage pattern. A line of 2-inch absorptive panels was placed on the back wall to dampen slap-back, and the two thick panels that protect the 20' wide Roe LED screen, when pulled aside for Sunday worship, function as effective traps for low-mid energy.
"Overall I'm very impressed with what I'm hearing," concludes Gille. "It's a fun feeling to have all that power and still hear detail in a gymnasium environment. Detail, in a gym? How can you do that?! I chalk it up to putting really good gear with precise pattern control and a linear response, and that's what we get with this LEOPARD rig. Beyond that, you can't go wrong investing in Meyer, as flexible components like these can be redeployed in new solutions as needs change."
Front end gear contributing to the audio quality includes a Yamaha CL-5 digital mixer, DPA headset microphones, Shure wireless systems, and a complement of wired microphones from Audix and Shure.
Eastside Christian's new main campus, opened in late 2012, is housed inside a completely reconstructed former Boeing Defense Systems plant. It features one of the newest worship auditoriums to offer variable acoustic characteristics using Meyer Sound's Constellation acoustic system.
For more information about Meyer Sound's LEOPARD system or anything from our list of over 100 professional audio manufacturers, contact our Sales Team at 847.367.9588 or sales@tcfurlong.com.
We also have many Meyer Sound speakers in our extensive rental inventory, including LEOPARD line array elements. For more information on adding Meyer speakers to your next show, or any help with your next rental, please contact our Rental Team at 847.367.9588 or rentals@tcfurlong.com.