by Brian Grahn, Sales/ Marketing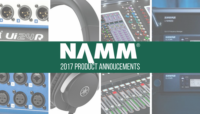 The NAMM Show 2017 just wrapped up in Anaheim, CA. The trade show, put on by the National Association of Music Merchants, is an annual event where equipment manufacturers showcase the latest in audio technology to their dealers. NAMM is one of the "Big 4" live sound industry trade shows alongside NAB, AES, and INFOCOMM. Here is a round-up of some of our favorite product announcements from the show: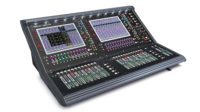 Digico SD12 Compact Digital Console

Digico unveiled "Project Vulcan", their SD12 compact digital mixing system. The console features 72 input channels with full processing, 36 aux/group busses with full processing, 12×8 Matrix with full processing, LR/LCR bus with full processing, 12 FX processors, 16 Graphic EQs, 119 Dynamic EQs, 119 Multiband Compressors, 119 DiGiTubes and 12 Control Groups (VCA). Though compact in size, the surface features dual-15″ touchscreens which display 24 channels in one view and dual operator mode.
The rear of the console has 8 local mic/line inputs, 8 local line outputs, 8 mono AES/EBU in/out, dual MADI in/out, dual DMI card slots and optional dual Optocore loops. The surface also includes a UB MADI 24 channel USB interface, making the SD12 the first console in the SD Range with a built-in recording interface. DMI card slot options include a Dante module, which can allow direct Dante integration and alleviate the need to purchase an Orange Box, and a Waves module to take advantage of the SoundGrid platform.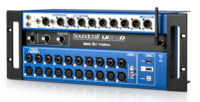 Soundcraft Ui24R Digital Mixing & Multitrack Recording System
Soundcraft announced the Ui24R, a digital mixing and multi-track recording system that can be controlled by up to 10 devices via Ethernet or built-in dual-band Wi-Fi, making it possible to control mixing and multi-track recording wirelessly. The compact, rack-mounted form factor, which can also double as a stagebox, features Lexicon, dbx and Digitech signal processing and Studer-designed microphone preamps. Ui24R provides 24 input channels, including 10 combo/XLR, 10 XLR, two line level and two digital mix channels for a total of 24 simultaneous inputs.
The system can be controlled wirelessly thanks to HTML5 compatibility, allowing any device with a modern browser to connet and control without the need to install any apps. Redundant recording capability allows engineers and musicians to simultaneously record their stereo mix, plus all 22 inputs, directly to a USB storage drive and a connected computer. The Ui24R is also part of the HARMAN Connected PA family of products and will offer full compatibility with the HARMAN Connected PA app, which will be available Q2 2017.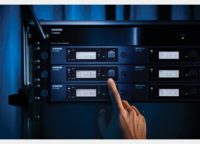 Shure GLX-D Advanced Digital Wireless Products

Shure announced the GLX-D Advanced Digital Wireless products, including the GLX-D Advanced Frequency Manager, rack mount receiver system, remote antennas and accessories. The Frequency Manager is designed to allow users to operate up to nine simultaneous systems in typical conditions, with up to 11 channels in optimal conditions. The GLXD4R receivers feature a rack-mountable configuration and can be connected via RF ports to the GLXD Advanced Frequency Manager. Each Frequency Manager automatically assigns optimal frequencies for up to six receivers using a patented data communication over the existing RF cables. Linking another Frequency Manager enables the use of additional rack-mount systems. GLXD4R receivers also feature a charging bay for the SB902, which is used in the GLXD2 Handheld and GLXD1 Bodypack transmitters.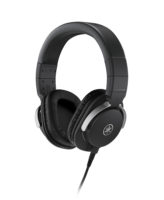 Yamaha HPH-MT5 and MT8 Studio Monitor Headphones

Yamaha showcased the HPH-MT5 and HPH-MT8 headphones, designed for use in studio and monitoring applications. The headphones utilize custom 40mm and 45mm drivers (respectively) and use CCAW voice coils along with neodymium magnets. The MT5 features a compact, closed back design with a sweat-resistant headband and large ear pads for comfort and increased isolation. The MT8 has a similar form factor with additional steerable earcups for single-ear monitoring and dis-cast aluminum support arms. Both headphones come with a detachable straight 3-meter cord and coiled 1.5-meter cable with a gold-plated stereo mini-plug and 1/4″ stereo adapter. The MT5 and MT8 are designed to produce flat, high-resolution sound with precise stereo imaging.
If you would like more information about the products featured in this article, or anything from our list of over 100 professional audio manufacturers, contact our Sales Team at 847.367.9588 or sales@tcfurlong.com.