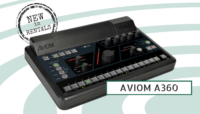 TC Furlong just added Aviom's newest personal mixing system, the A360, to its extensive rental inventory of Aviom products. The A360 is Aviom's newest update to their industry standard personal mixing systems, and though comparable in size to the A-16II personal mixer, the A360 brings a new level of control and customization for musicians on stage and in the studio.
Aviom's A-Net now allows for a 64-channel network pool which is configurable through the free A360 Channel Manager software. Each personal mixer can be uniquely assigned up to 17 mono or stereo channels, and each channel can be adjusted for volume, stereo placement, tone, and reverb.
A new feature is the One-Touch Ambience, which with a single button mixes in ambient audio from either a built-in mic or an assigned input. The A360 has ¼" and 3.5mm headphone outputs, along with a Mono Mix Out, which can be used for a powered wedge or for adding a tactile subwoofer like a Bass Shaker or Buttkicker.
Mix control is accessed entirely on the A360 surface itself, but the A360 Display iOS app expands the user interface with a graphical view of every channel in the mix. Multiple pages show real-time metering for each mix channel and the mix as a whole and enable users to enter custom names for A360 mix channels.
The A360 joins our roster of Aviom personal mixing products allowing up to 64 channels and 16 drops of customizable personal mixing. Also, with our acquisition of the Dante D800 Dante A-Net Distributor, we are able to integrate directly with Dante networks. The new A360 is backwards compatible with older Aviom systems including the A-16II mixers.
For more information on adding an Aviom A360 system to your next rental, please contact our Rental Team at 847-367-9588 or rentals@tcfurlong.com.
TC Furlong also sells personal mixing systems. For questions about purchasing an A360 system, or anything from our list of over 100 professional audio manufacturers, contact our Sales Team at 847-367-9588 or sales@tcfurlong.com.