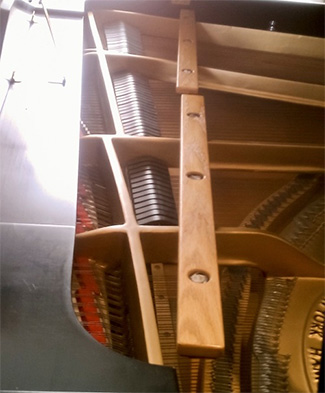 Helm Key's new "Irving" microphone system for grand piano represents a fresh approach to getting good piano sound with minimal bleed.
While many techs approach a grand piano with either the stereo pair method or more esoteric multiple microphone methods, the Irving uses a linear array of six microphone capsules and custom electronics to produce a stereo output with great sound, even response across the entire keyboard, and greatly reduced bleed and feedback problems.
Condenser mics with stereo output – can be summed to mono.
Reduced bleed and risk of feedback, even with lid fully open.
Can be used with lid open or closed, with very little difference in sound.
Extremely even response across the entire keyboard.
Natural finish oak, with a low-profile design that blends in with the piano interior.
Typically, some phase conflicts would be expected, but in practice the capsules are fairly far apart compared to how close they are to the strings, and the soundboard vibrates without any major phase differences between the areas covered by the system.  Each capsule picks up the strings in its vicinity and a share of the soundboard.
They system also provides more isolation from outside sources as, even in an open-lid setup.
To learn more about the Helm Key Irving microphone system and listen to recordings click here.
If you have any questions about the Irving microphone system for grand piano, or would like a rental quote, please contact our rental team at 847.367.9588 or rentals@tcfurlong.com.